This post has been read 2421 times!
Goldman Sucks equity research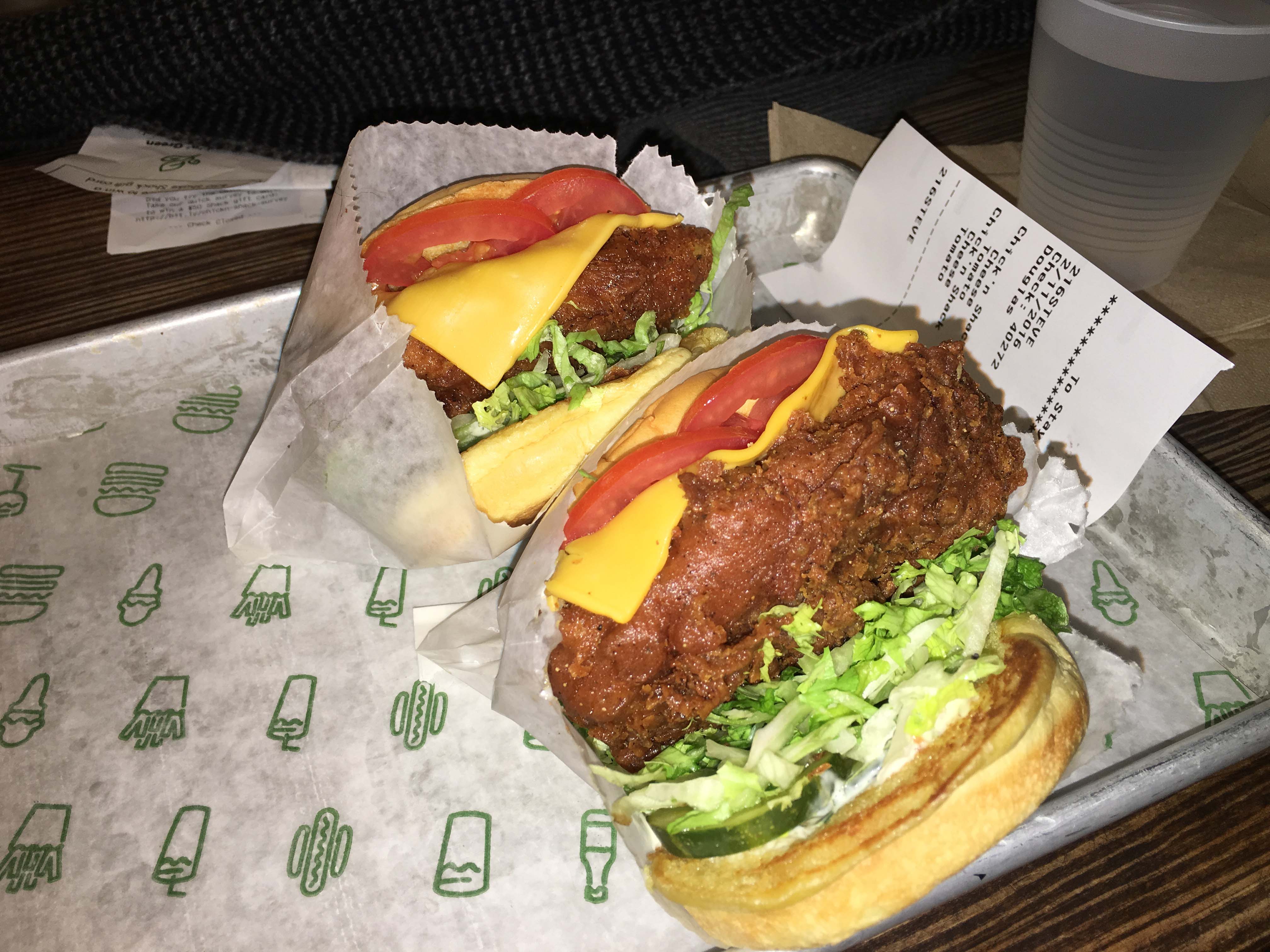 Update May 31, 2016- SHAK is at $39, or a 14% gain from this first posting in February.

Update May 11, 2016- Shake Shack Q1 2016 earnings blew away consensus estimates due to increased same-store sales. The chicken sandwich (which was my idea) was mainly responsible for this.
Update March 8, 2016- Shake Shack reported earnings yesterday for the period ending December 31st, 2015. The chicken sandwich launched in 2016, so the sell-off today is irrelevant to the thesis, below.
However, the CEO did discuss the chicken sandwich at length (hoping to offset the bad news of the slow growth in 2015), calling it the most important new launch. He expects it to be accretive to sales in 2016 (audio bar below).
So, perhaps in three months the impact will be seen.
Interestingly, Shake Shack is already paying their staff at least $12 per hour in anticipation of the minimum wage increase. This is why they have such a good staff. You get what you pay for.
__________________________________________________
February 14, 2016   Ticker: SHAK     Current price $34   Rating: Buy
Analyst: Steven Greer
The new Chick'n Shack launch could drive upside to Q1 earnings
What's new?- We have been doing considerable "due diligence" on the newly launched Chick'n Shack sandwiched. It is a big hit already with approximately 30% of total sandwiches now being comprised of the chicken sandwich. This is not yet factored into analysts' estimates.
Chicken sandwiches are one of the most popular food items in fast-dining, and Chick-fil-A is one of the most successful companies in the industry. A successful new Chick'n Shack sandwich would help new Shake Shack store volumes, which is the most important variable to the new and expanding food chain. In addition, same-store-sales, estimated to be flat by consensus estimates, could be bumped up to 5% or more by the Chick'n Shack launch.
The successful execution of this important new product launch also increases our confidence in the management's ability to open new stores and grow.
Valuation- At $34, SHAK shares have plummeted 60% from all-time highs in 2015, dipping below the price targets of even the bearish analysts. SunTrust initiated coverage in January of 2016 with a Neutral rating and $40 price target. Short interests exceed 26%.
We believe that Q1:2016 earnings in April could drive a short squeeze and reevaluation of price targets by the sell side.
(This story is parody)
Review: Shake Shack's chicken sandwich is great
Growth at Shake Shack has stalled
Danny Meyer made $400 Million today on Shake Shack (SHAK) IPO
What is the valuation of Shake Shack (SHAK)?