This post has been read 2907 times!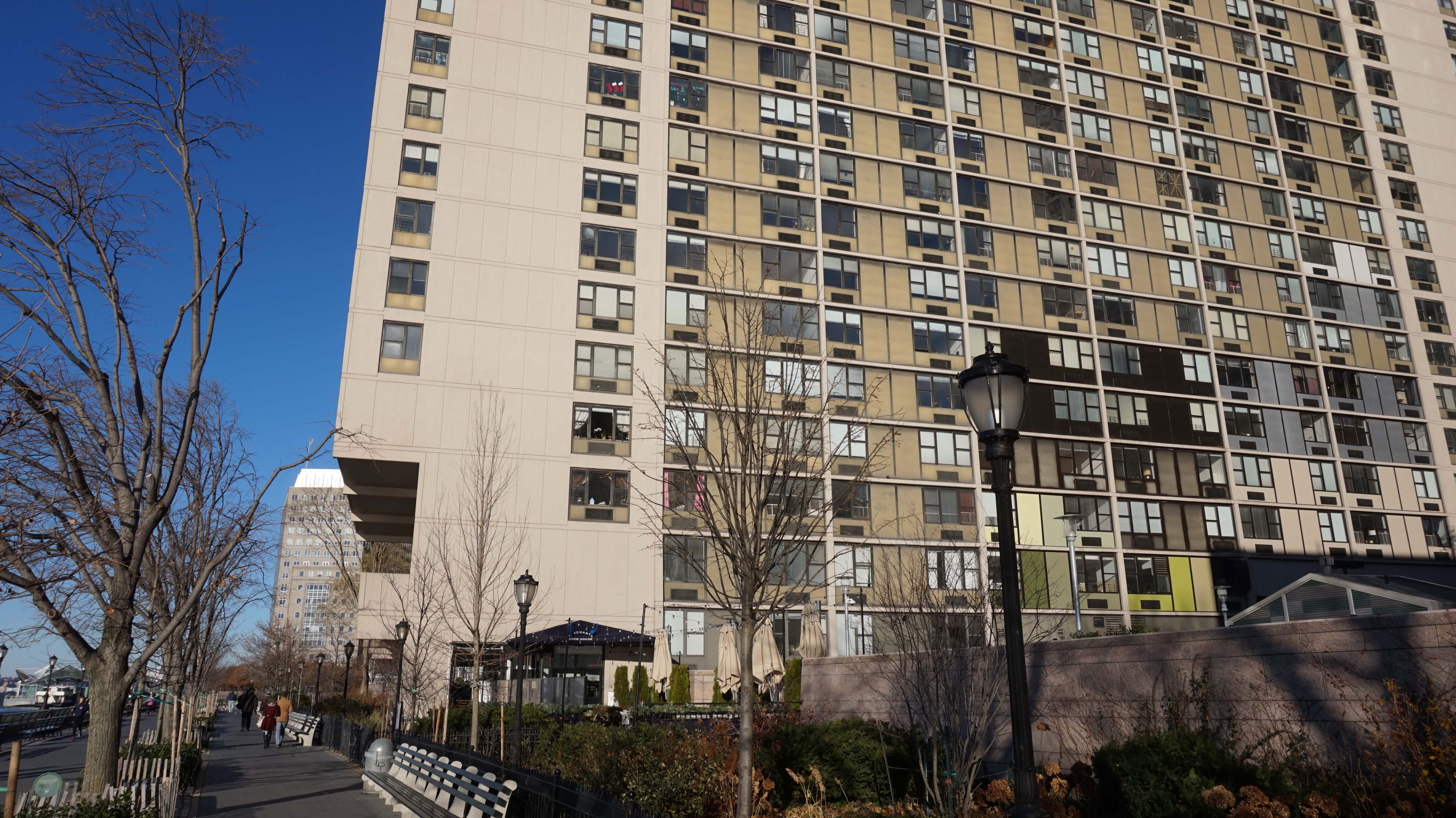 Update February 23, 2015- By Steven E. Greer
Last year, BatteryPark.TV exclusively reported on the legal victories by one small pro se tenant of Gateway Plaza, Kim Lurie, as she fought retaliatory eviction by billionaire LeFrak (see story below). She claimed that her lease was not being renewed as pure retaliation for her filing complaints with the city over the unlivable conditions inside Gateway Plaza apartments.
Ms. Lurie used the "223-b" law that prohibits retaliatory evictions. Even though LeFrak claimed that she was in a "market rate", and not "rent stabilized" apartment, she argued that the 223-b still applied.
We reported in August of 2014 that Ms. Lurie had won her legal battle because LeFrak's lawyers had withdrawn the case in July and offered her a deal equivalent to free rent. However, LeFrak changed its mind and continued the case.
Today, Ms. Lurie updated us on the legal saga stating that she once again prevailed in housing court against the billionaire mogul LeFrak.
She wrote, "I thought you might want your readers to be aware of the recent ruling in my case, which has caused Gateway to today offer me $20,000 to settle this, which I declined….
My claim is while some money is due, I am entitled to damages for breach of warrantee of habitability, constructive eviction, retaliatory evictions damages and NOW I'm looking for punitive damages since it is very clear that they knew these apartments were heat deficient among other things but rented to me anyway. Apparently, there was a class action in 1987 about these very same issues and it went un-repaired all this time.
I made a motion to dismiss the action from the landlord tenant court claiming they were not accepting my rent deliberately to bring an action in this Summary Proceeding for which the court could not hear the "use and occupancy" claim for the months when I had no lease.
The Judge ruled in my favor. She dismissed from the Landlord Tenant Court the claim for the money during the time we had no lease as LeFrak was trying to throw me out for complaining for no heat. This was the only thing that they were looking for since I've been paying the rent for the new lease term!
Two weeks ago, the judge told them to offer me $10,000 and they went berserk. Today, after they lost this motion, they are offering me $20,000, which I declined and am seeking greater punitive damages. Now, LeFrak does not like the judge's decision, so they are going to move to re-argue…
I hope this helps the other tenants to fight back or, at the very least, have the windows repaired the same way the heat was."
Click here for Notice of Entry Order nonpayment
Update August 4, 2014- This case was withdrawn July 8th. She won.
June 10, 2014- By Steven E Greer
In what could send shockwaves throughout the real estate families of New York, The LeFrak Organization offered to drop a landmark holdover tenant eviction case today (case number 061965/14). The tenant in the case, Kim Lurie, PhD, was the respondent in an eviction process brought on by Gateway Plaza.
For no listed reason, Gateway decided to not renew her market rate lease. She responded with the defense of RPL section 223-b which forbids eviction as a form of retaliation. She claimed that her complaints to the City HPD over deplorable conditions in her apartment caused Gateway to retaliate with eviction proceedings.
Today was the Landlord and Tenant court date to decide whether the case would have been awarded to LeFrak/Gateway in summary judgment, or whether a trial would have proceeded. BatteryPark.TV was in the courtroom.
Before the case was even heard, a lawyer for LeFrak approached Dr. Lurie offering to drop the case and renew Dr. Lurie's lease. She counter-offered with a demand for approximately $18,000 in damages. (The negotiations took place in the public hallway for BP.TV to witness). Eventually, the lawyer got the permission from LeFrak to settle. On July 8th, settlement offers will be discussed and finalized.
Complaints alleging that LeFrak/Gateway also defrauded FEMA by accepting the rent subsidies from FEMA, after Hurricane sandy, remain open.
The landmark importance of this case to Battery Park City residents lies in the fact that large real estate companies that have been evicting market rate renters in the area (i.e. 22 River Terrace) have publicly stated on multiple occasions that market rate renters have no rights whatsoever, and that the building owner can decide to not renew a lease for no good reason.
In preparation for the case, BP.TV interviewed housing court lawyer Alan Sash of McLaughlin & Stern, LLP. He stated that the RPL 223-b does indeed equally protect market rate renters as well as those protected by various rent-controlled laws. He also raised the point that, since the BPCA owns the land and buildings and not the real estate companies, the BPC renters might have extra levels of state and federal protection not afforded to other renters throughout New York City.
In order for a renter to be protected by the RPL 223-b law, they must file official complaints with a government agency (usually the City's HPD). Also, attempts to form tenants unions are protected as well under the law. Moreover, separate federal Civil Rights laws also protect free speech as it applies to retaliatory eviction.
If a tenant is found to have been retaliated against, they are due not only damages, but treble and punitive damages.
Dr. Lurie is riding a wave of success. Recall, she recently won her case against LeFrak, brought by the City of New York after she filed complaints with HPD for her leaky windows and freezing conditions in the winter, and subsequent high electric bills. That victory led to an immediate decision by LeFrak to install new heating and cooling units for all of the Gateway Plaza apartments (the elected officials took credit, but in reality had little impact on the Gateway decision).
Dr. Lurie is part of a watershed moment in history for Battery Park City. She arrived in the community after the Hurricane Sandy disaster. Therefore, she is not the typical Gateway Plaza veteran resident. She is well educated and stands up for her rights. Meanwhile, the new mayor is cracking down on real estate slumlords, as is the Federal DOJ. All of this comes as Internet technology has allowed for the creation of unbiased news sites, such as BatteryPark.TV, willing to take on special interests.
Exclusive: Did LeFrak's Gateway defraud FEMA?
One year later, and no progress on Gateway Plaza freezing conditions
Legal tips for 22 River Terrace tenants
NY Post covers the evictions going on at 22 River Terrace
Exclusive: LeFrak settles city lawsuit over lack of heat in Gateway Plaza
Exclusive: Lawyers battle to be plaintiffs' counsel for Gateway class action
Federal DOJ getting tough on New York real estate families