This post has been read 1210 times!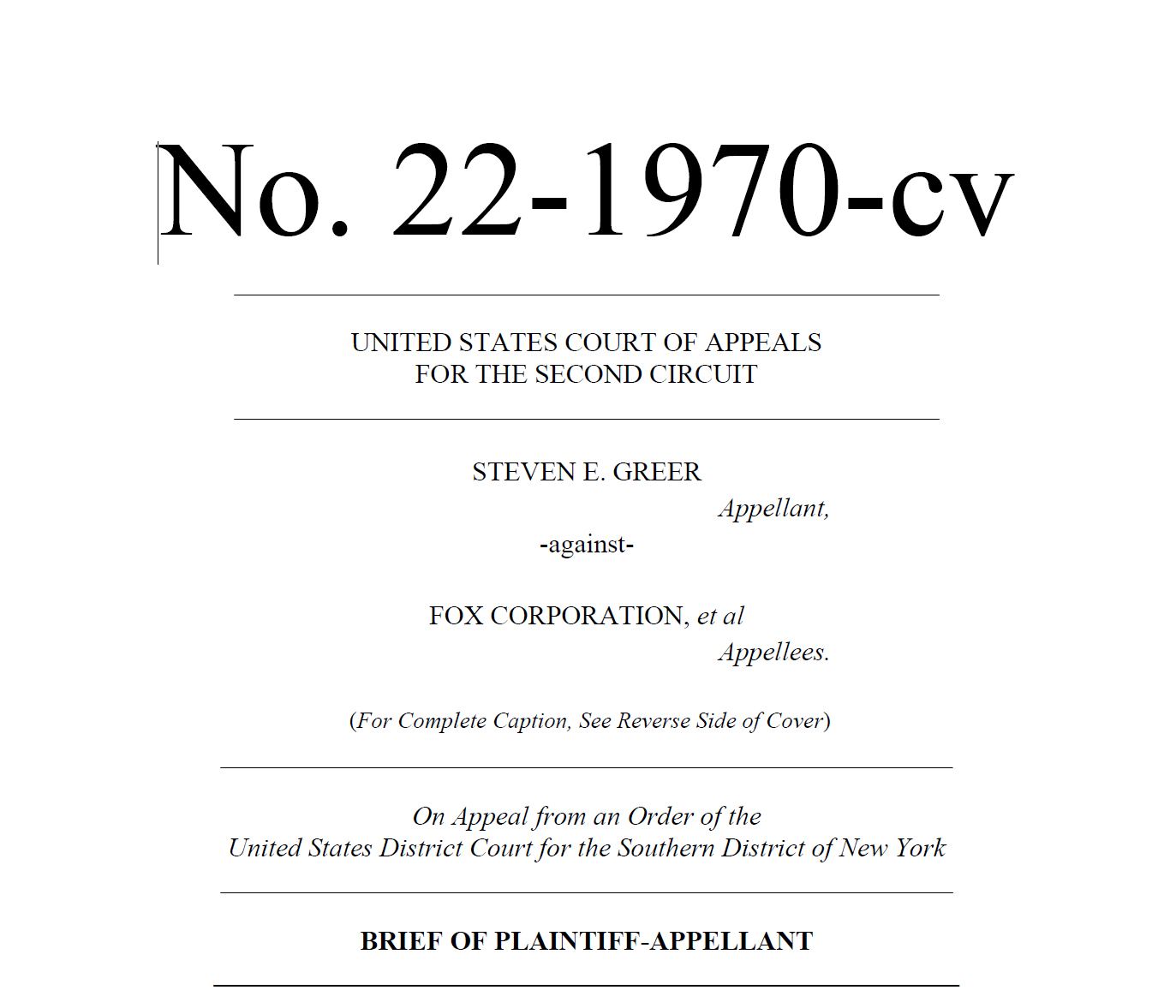 Update March 21, 2023- A live stream of my oral argument can be viewed here on Thursday, March 23, at about 10:20 AM. This will be part of the Master Class series.
Update September 8, 2022- I appealed the magistrate decision from June of 2021 that dismissed key causes of action. I did not want to be left with just a pure defamation case. My main beef was with Tucker Carlson for stealing my ideas.There was a slim chance that the judge would overrule her magistrate. I knew that. I wanted this to be able to go to the Second Circuit Court of Appeals. As expected, the judge did not agree with my appeal of the magistrate report. So, it looks like I am heading back to the 2d. Cir.
This is what I found important from the ruling. No judge in this case has ever questioned the underlying merits. No one doubts that Tucker Carlson stole my ideas. They dismissed the case based on a legal technicality. I highly suspect the court does not want to set a hugely important precedent in copyright law based on a pro se litigant.
Regarding that "copyright preemption" matter, the judge ignored my argument, which means they know I am right. I intentionally did not use copyright law for my causes of action but the court claims I should have (i.e., the preemption). Well, in 2019, the Supreme Court ruled that it would be impossible for me to use copyright law because I did not register my content. So, it is circular logic for this lower court to say I should have used copyright law when the SCOTUS ruled I am not allowed.
I will take this to the Supreme Court, again, if I have to.
Of note, the Judge, who is the Chief Judge of the entire SDNY, gave me this compliment in a footnote:
"The Court notes that, although Plaintiff is proceeding pro se in this action, he is a fairly sophisticated and experienced litigant, who appears to possess a good understanding of the law—and thus will be treated with slightly less solicitude than might normally apply to a completely un-resourced and inexperienced pro se party. See Benitez v. King, 298 F. Supp. 3d 530, 540 (W.D.N.Y. 2018) ("[W]hile all pro se litigants deserve some degree of leniency, where a litigant has some experience with the legal system, courts may treat him less leniently than wholly inexperienced pro se litigants.") (citation omitted)."
Update October 20, 2022- Here is the brief
Update February 2, 2023- The oral arguments are March 23 at 10:00 AM. You can attend and watch.
March 23, 2023- by Steven E. Greer
If you listened to the audio from argument today, you likely think that the judge exposed stupidity on my part when telling me that I misapprehended the concept of preemption. However, he was wrong and had not read the brief (see letter attached).
I am now 100% certain that I am correct in my paradox argument. That is why the lower court ignored it many times. The lower court was daring me to appeal.
Having said that, I like this Judge Lynch. I was listening to him handle a complex criminal case prior to mine. He was top in his class at Columbia Law, then clerked for the Second Circuit, then for the Supreme Court, then was a US Attorney. He was also Vice Dean of Columbia Law.
This was not a coincidence. The calendar team gave me special expedited status, and then gave me the best judge.
The last two-minutes of the audio is very interesting. I have never seen before a judge ask a genuine question and then seem to be swayed by the answer, as Judge Lynch did today.
Stay tuned.