This post has been read 5743 times!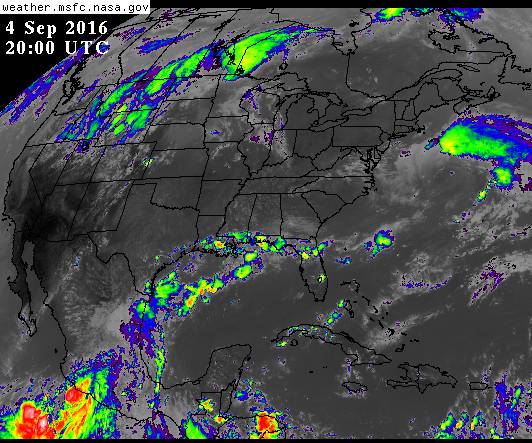 September 4, 2016- After several years of having no hurricanes develop off of the African Coast, we are getting hit again. However, four years after Hurricane Sandy, the incompetent New York establishment government, which wants Hillary Clinton to become president, has done nothing to prevent flooding of the tunnels and subways as Hurricane Hermine heads our way.
The best the city can do is overreact, close down things, and sandbag the subways entrances, which will do nothing.

(FYI, Hermine will not hit the Northeast. Just follow the NASA images and ignore TV.)
Opinion Update November 15, 2012
BatteryPark.TV was the first to point out (below) that much of the human suffering after Hurricane Sandy was preventable and due to institutional incompetence. We caught a lot of flack for this. For example, the executive producer for the "CBS This Morning" show replied on Twitter that we were delusional and out of touch with the severity of the storm.
It now seems that Governor Cuomo agrees with our early assessment. He is publicly berating the Long Island power utility, LIPA. Other news reports have listed the shortfallings of Consolidated Edison and the MTA as well.
Hurricane Sandy was a strong storm farther to the south, but when it hit New York it was a "post tropical storm" with low winds and little rain. Nevertheless, massive damage was done to coastal areas of Staten Island, Long Island, and the lower east side of Manhattan when a modest storm surge of flooding wiped out power and phone service. Those services should have been more resilient and repaired faster, according to the governor and numerous other sources.
Despite charging one of the highest rates for electricity on the country, LIPA has provided the worst service. Criminal investigations should ensue and major restructuring of labor contracts should result.
November 1, 2012  By Steven E. Greer, MD
I am sitting in my Ivory Tower apartment 500 feet in the sky overlooking a calm New York Harbor in front of me and the Financial District (FiDi) to me left. It is now almost three full days since the storm surge of Hurricane Sandy caused a brief period of minor flooding confined to Lower Manhattan. I use the word "minor" as comparison to typical hurricanes in the south, and to what they experienced after Hurricane Katrina.
My Verizon landline phone is still out of service despite the global headquarters being located about a mile up the street. My AT&T cell phone has spotty service. My Verizon Internet only returned to function yesterday. But I have it made in the shade compared to my fellow humans to my left in FiDi.
Across the West Side Highway, at night, the despair is visible. They have no power in FiDi, Lower East Side, and Tribeca. The subways are full of billions of gallons of water. Nothing is working and the electronic refugees are starting to trek over to Battery Park to find any public space with electrical outlets. Yesterday, they numbered in the hundreds sitting on the floor of the World Financial center atrium and in any restaurant that was open. Today, they will be in the thousands. Tomorrow, tens of thousands will be going to desperate measures to find basic services.
Wealthy professionals in Tribeca who own multi-million dollar apartments are essentially homeless. I saw one man setting up his full PC computer on the floor of the WFC.
There is a brewing humanitarian crisis days after the hurricane that is eerily reminiscent of Katrina. Recall, it was not until the levees broke that Katrina became the multi-year disaster that it was.
The images seen on TV of epic destruction are not of Manhattan. Why is the biggest city in the country, the financial capital of the world, completely disabled many days after a minor storm (that hit Manhattan, but was far worse in New Jersey) that caused only two hours of flooding? Manmade institutions are to blame.
The Metropolitan Transit Authority (MTA) has mismanaged the New York public transit for many decades. Every person who visits Europe, Japan, China, and other countries realizes that New York City is a Third World country when it comes to the subways. There is no reason that a few feet of flooding with low winds should have shut down the subways for what will likely be weeks.
The hardest hit subway station that has been shown on TV the most is by the Staten Island Ferry stop. In an interview with ABC's Chris Cuomo, an MTA official explained that they used plywood to board up the entrance, and that the weak attempts were smashed by the water. Being at sea level, why was this subway entrance designed without flood gates? Nearby, the Goldman Sachs building has flood gates and was kept dry.
Likewise, up the West Side Highway, which was a river during high tide on Monday night, the Verizon headquarters was under water. Verizon is a quasi-public-utility far less accountable than a fully private company. Why did they not have back up redundant systems to prevent massive Internet and phone outages? Being so close to Ground Zero, there seems to have been no lesson learned to create backup systems in remote areas.
On Wall Street, the New York Stock Exchange was shut down for two days, with ripple effects to the global markets. Did the NYSE really learn anything from 9/11? Generators did not kick in until Wednesday. Why did not the NYSE have a backup trading floor in Jersey City?
The dangling construction crane 1,000 feet above West 57th Street was operated by a company with numerous criminal prosecutions. Lend Lease executives barely escaped jail
time after their demolition crew tearing down the old Deutsche Bank building on Ground Zero caught fire and two NYFD firefighters were killed. Early reports indicate possible human error caused the crane to not be set to swivel freely during high winds.
The evacuation of NYU Hospital and then of nearby Bellevue were disgraces of those historic institutions. Everyone from the people in charge of the generators to the CEO should lose their jobs. Critically ill patients and neonates were carried down stairs into ambulances and transferred to Mount Sinai. The investigations into this will surely lead to malfeasance and incompetence. Did they learn nothing from the hospital disasters after Hurricane Katrina that led to elderly being euthanasized by panicking nurses and doctors?
Consolidated Edison (conEd) seems negligent on many levels as well. The biggest residential fire in modern times destroyed more than 100 homes in Rockaway after a gas fire erupted. Why were not gas lines turned off at this sea level community sure to take the worst of Hurricane Sandy? In Manhattan, the biggest crisis of
the hurricane has been caused by the power outages that have no end in sight. Decades of poor planning and bureaucracy of this utility led to unsafe underground electrical infrastructure despite billions being pumped into renovating Downtown after 9/11.
Billions of people are watching video news of this catastrophe to hit the Tri-Sate area and are lumping Manhattan in with the images of the decimated Jersey Shore. In reality, Lower Manhattan suffered brief flooding that lasted approximately two hours on Monday night. New York City should not have been brought to its knees for weeks by this level of assault. Major reforms of our public institutions should come of this.