This post has been read 365 times!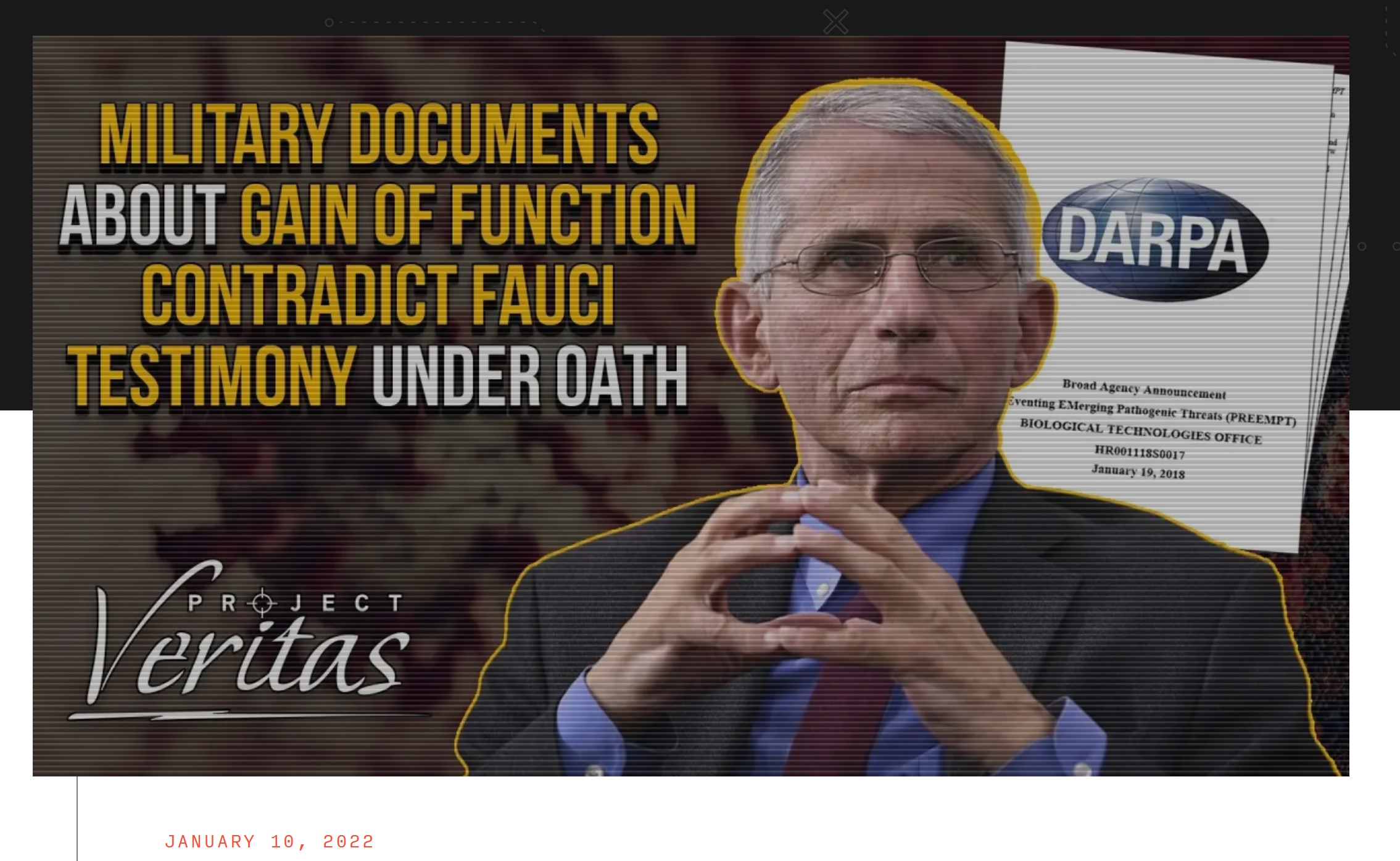 January 11, 2021- by Steven E. Greer, MD
Project Veritas leaked sensitive documents that reveal new depths to which Tony Fauci, et al were willing to go in order to cover up their blame for the pandemic. By now, we all know that Fauci made the SARS-CoV-2 virus in his various labs around the world. What is new to me in this document release is that Fauci also went further to promote his pet-project gene therapy "vaccines" by stifling better oral drug therapies, at the expense of murdering people.
From the Project Veritas press release: "Major Murphy's report goes on to detail great concern over the COVID-19 gain of function program, the concealment of documents, the suppression of potential curatives, like Ivermectin and Hydroxychloroquine, and the mRNA vaccines."
The withholding of these drugs is mind boggling. I can understand how someone like Tony Fauci, a lifelong Deep State paper-pushing bureaucrat, over many decades at the NIH, could became comfortable with gain-of-function research (i.e., a euphemism to genetic engineering of bioweapons). I can see how the lab mistakes happened because they have happened before, many times. But what I truly cannot imagine is how they could conceal the effectiveness of easily obtainable drugs like ivermectin and make their own lab-leak mistake worse.
Think about that. In 2020, they saw a global pandemic from a virus that they created. Then, they went further and stifled the use of readily available therapies just to promote their own gene therapy vaccines. This is comic book evil.
They murdered people on a scale never before seen in the history of the world, if one looks at total COViD deaths (i.e., 5 million), all of which were preventable. That is sheer evil. (The communist starvation murders were less direct. Fauci, et al used a more direct murder method.)
Then, every hospital CEO in America, Europe, and Australia went along with this evil canard because their political bosses told them to. Meanwhile, almost no doctor pushed back. MDs violated their oaths just to keep their middle-class jobs.
Oh, by the way, the Project Veritas documents show just how intent Fauci, et al were in getting their illegal gain-of-function WMD programs going. Our own military, via DARPA, rejected Fauci's research plans!
"The documents in question stem from a report at the Defense Advanced Research Projects Agency, better known as DARPA, which were hidden in a top secret shared drive.
DARPA is an agency under the U.S. Department of Defense in charge of facilitating research in technology with potential military applications.
Project Veritas has obtained a separate report to the Inspector General of the Department of Defense written by U.S. Marine Corp Major, Joseph Murphy, a former DARPA Fellow.
The report states that EcoHealth Alliance approached DARPA in March 2018, seeking funding to conduct gain of function research of bat borne coronaviruses. The proposal, named Project Defuse, was rejected by DARPA over safety concerns and the notion that it violates the basis gain of function research moratorium.
According to the documents, NIAID, under the direction of Dr. Fauci, went ahead with the research in Wuhan, China and at several sites across the U.S.
Dr. Fauci has repeatedly maintained, under oath, that the NIH and NAIAD have not been involved in gain of function research with the EcoHealth Alliance program. But according to the documents obtained by Project Veritas which outline why EcoHealth Alliance's proposal was rejected, DARPA certainly classified the research as gain of function.
"The proposal does not mention or assess potential risks of Gain of Function (GoF) research," a direct quote from the DARPA rejection letter.
Major Murphy's report goes on to detail great concern over the COVID-19 gain of function program, the concealment of documents, the suppression of potential curatives, like Ivermectin and Hydroxychloroquine, and the mRNA vaccines."