This post has been read 3035 times!
July 4, 2015- by Steven E. Greer
As part of my 2015 tour of Manhattan Cheeseburgers, I tried the one at the Nomad. I should have predicted this since the place is run by the ultra-pretentious chef from Eleven Madison, Daniel Humm. The thing that arrived was not a cheeseburger. It was a piece of meatloaf on a bad bun.
Because I know the psychology that caused this mess, it was a personal affront to me. I wanted to find the chef and punch him (not really).
Every Michelin-star chef in the city who tries to scale up and open a casual restaurant makes their hamburgers too thick. Why? Certainly, not many people can be giving them positive feedback, so why do they do this? Stop f-ing with the American hamburger.
The "frites" were also the worst that I have ever had. They arrive on an intricate wood board and are stacked high in a copper cup (normal steel would not be good enough). The little sides of ketchup and mayonnaise are in delicate containers. It all looks fancy.
The problem is that they make a Jenga stack out of the fries, intentionally, according the the bartender. The over-fried sticks of potato come tumbling down when one tries to eat them. The restaurant sends no plate to pile the fries onto, so it all falls onto the dirty bar.
Somebody really overthought this one. It's just french fries, Mr. Humm. Make them crispy on the outside and fluffy on the inside. That's it.
The only positive thing that I can say about the Nomad is that the bartenders are intelligent and quite good. Some of them used to bartend at Eleven Madison, the 3-Michelin-star place.
The frustrating part of Nomad, and other places like it, such as DBGB, is that the staff have the skills to run a great restaurant. However, they try too hard and end up with pretentious entrees, such as this "cheeseburger" resembling a meatloaf and "frites".
The best cheeseburger and fries that I have had this year remains the El Vez Mexican burger, below.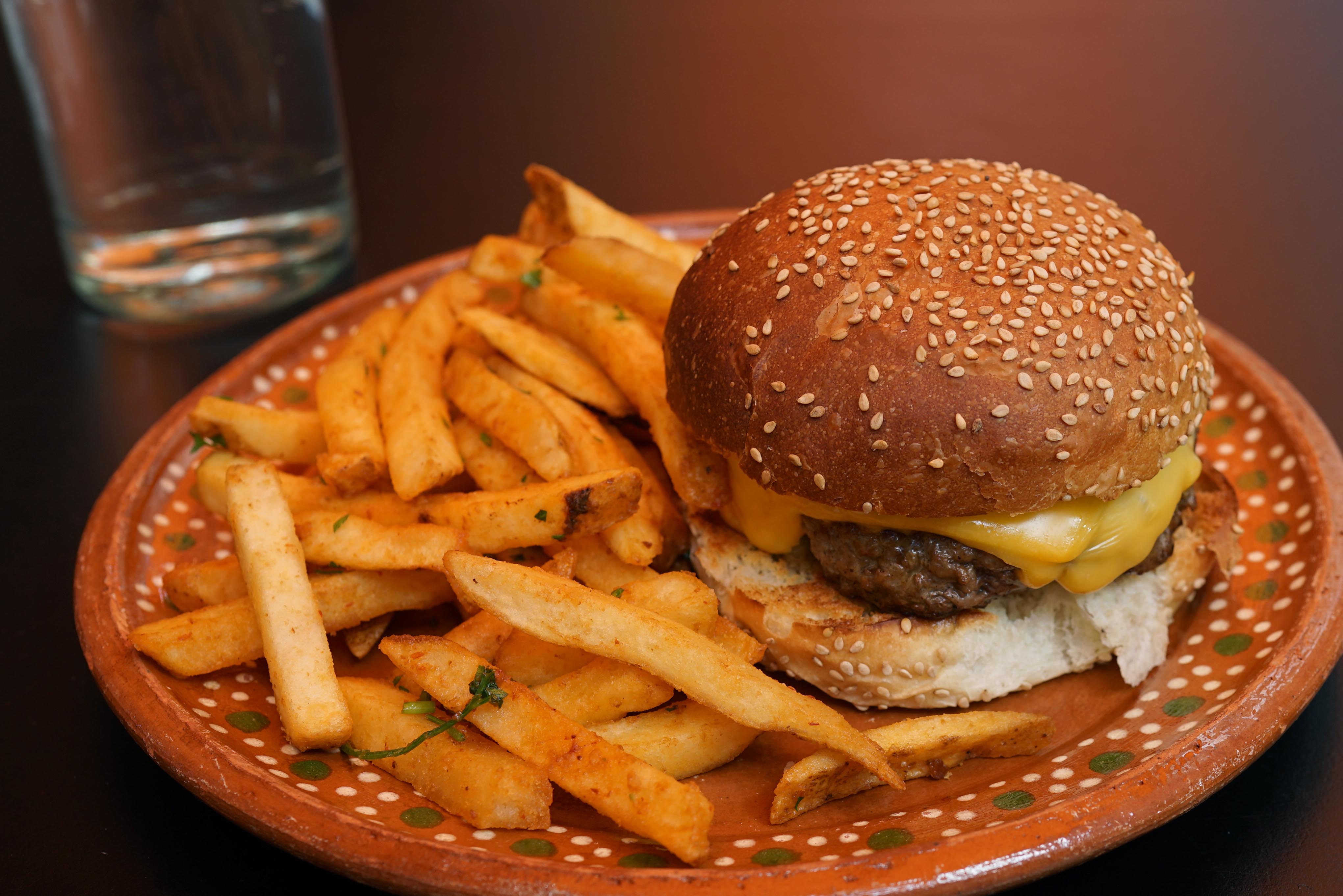 The Upland California burger is not bad either. However, their fries are inferior to El Vez's, in my opinion.