This post has been read 1486 times!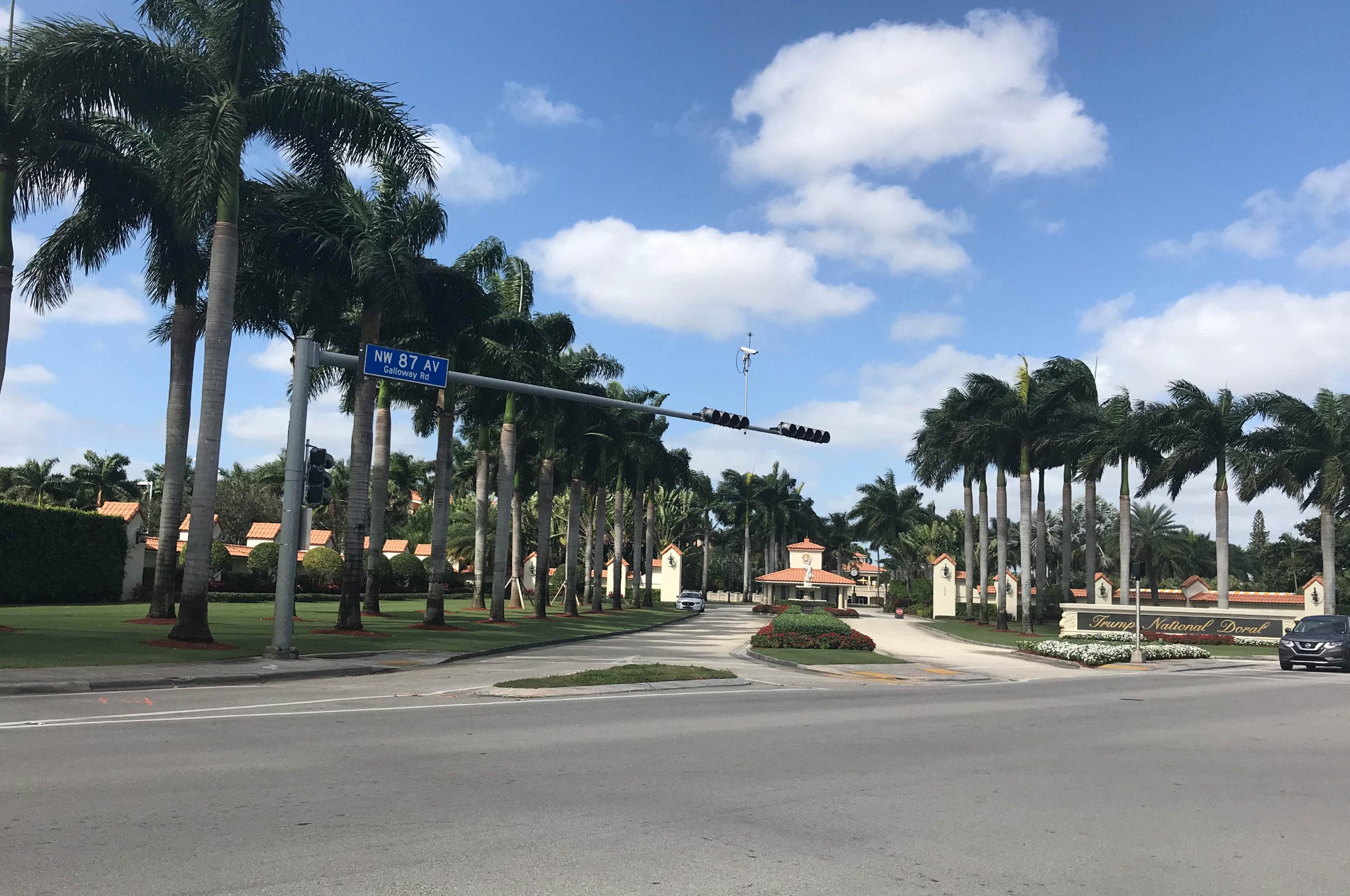 January 19, 2020- by Steven E. Greer
I drove two-hours south to Trump Doral for an overnight trip. I wanted to see what the golf school's teaching robot was like as well as scope out the Pritikin Longevity Center.
From the moment I stepped foot onto this place, I sensed that I was being fleeced. I highly recommend avoiding this Trump property (and the entire region south of Palm Beach down to Miami).
When I arrived on Saturday, I first drove into the separate entrance to visit the spa and the Pritikin Longevity Center. The man out front acting as valet was a hustler. He would not let me park by his stand for a few minutes claiming that it might be towed. He just wanted the valet tip.
I gave up and drove to the main entrance to check in. I knew they participated in this national illegal scam of "resort fees", but they appalled me by telling me that I could not check in until 4:00 PM and had to check out the next day before 11:00 AM. So, I paid $324 for the use of a room for only 19-hours.
By the way, the same valet man by the spa drove me in a golf cart to my villa.  I knew I was being hustled when he kept stopping to orient me, "See that fountain, behind that is the clubhouse" He was pointing out obvious crap and I knew he was building the case for a tip. Larry David made a skit about this. I gave him a $5 tip and he seemed upset.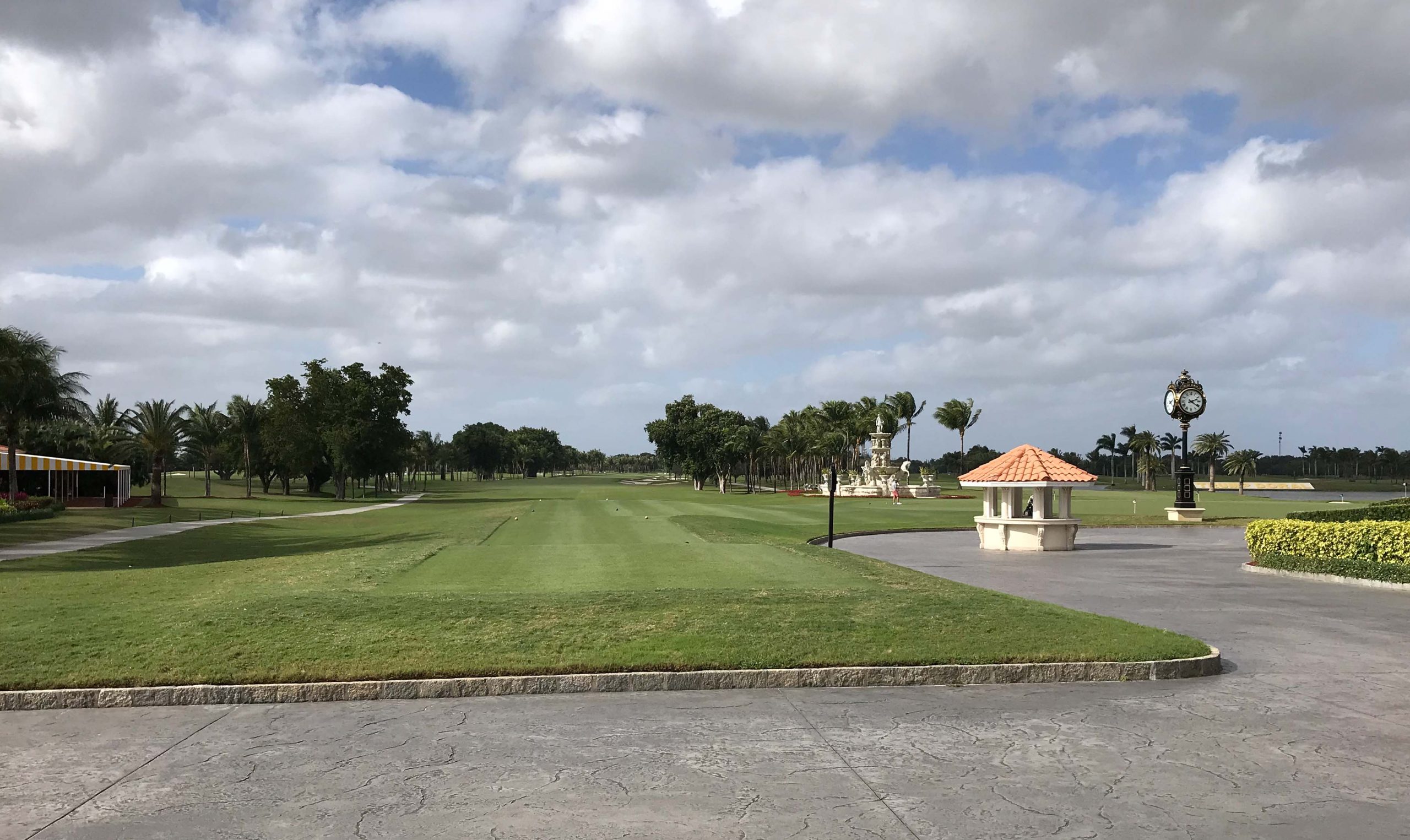 I spent Saturday on the Doral practice range. It is not bad for a busy resort of this nature. The greens are true because they scalp them twice a year. Bermuda greens have to be scalped to prevent the roots from getting too thick and grainy.
Sunday morning, I awoke and could not find the "coffee in room" promised. It was a small coffee machine hidden in a drawer, hard to use, and contained foul-tasting coffee.
I needed some fluids but there was no free bottled water. They had $9 bottles of water though: Fleecing, hustling, insulting scammery.
So, I went to the main lobby where my $11 prepaid breakfast was located. It was a large buffet in the BLT restaurant, which normally would have sufficed. The only problem is that I have gone plant-based, as so many intelligent wealthy people have; the same people who are the ideal guests of a resort. Everything in the buffet was animal-based eggs, bacon, omelets, dairy, etc. I asked if the chef could make me a simple smoothie, and the clueless, poorly trained, hostesses said "no"
At this point, I was not upset at all. I well knew that I was the one with the unusual diet. So, I went to the private fruit smoothie and coffee bar. But their items to choose from were all wrong. For example, they use whey protein powder instead of soy.
Fine. Again, I was being the unusual one and was not upset. I decided to just get a banana instead. When they wanted to charge me $3.84 for a banana, I thought she was joking with me. Now, this is when I become miffed (I had paid $5 for a small chocolate bar the previous night).
I walked upstairs to the concierge and asked for the GM. The concierge was reluctant and tried to help me himself. He then went into the back but failed to return.
I walked to the front desk and found the nice lady who checked me in. I explained that Pritikin Longevity Center uses the resort rooms to house their clients. Therefore, I was a bit surprised at how unhealthy the food was.
Meanwhile, the front desk refused to give me the name of the GM, David Feder. Instead, they gave me the name of a lower-ranked manager despite me making it very clear five times that I wanted the "senior-most GM"
About the food, I know exactly what is wrong with the restaurants at Trump Doral. The BLT company that runs the restaurant, which is struggling in New York, also staffs the room service, etc. They seem oblivious to modern plant-based trends and have dropped the ball. There clearly is no communication with the wellness center.
This is classic South Florida incompetence. Up in New York, I guarantee you that the Trump hotel in which resides Jean-Georges knows how to accommodate plant-based guests. Jean-Georges has half of its menu dedicated to this now.
On Saturday night, I ordered the Beyond Meat hamburger. It looked well-plated, but it was devoid of taste. I make these all the time at home and they are delicious. Somehow, the restaurant botched this badly.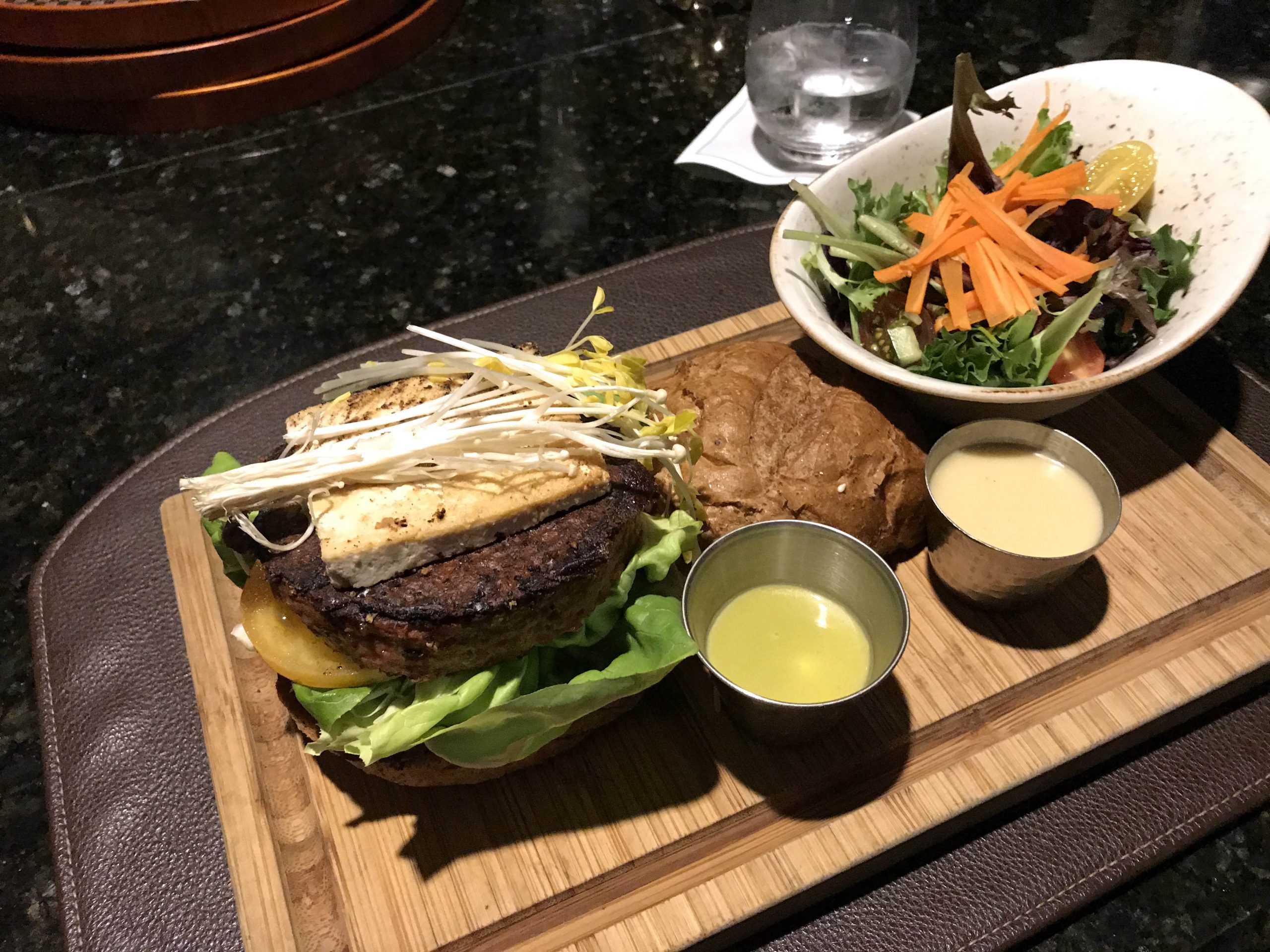 This is not my first experience with a Trump golf resort. A couple of years ago, I visited the one in Laguna Beach. It too reeked of fleecing scams.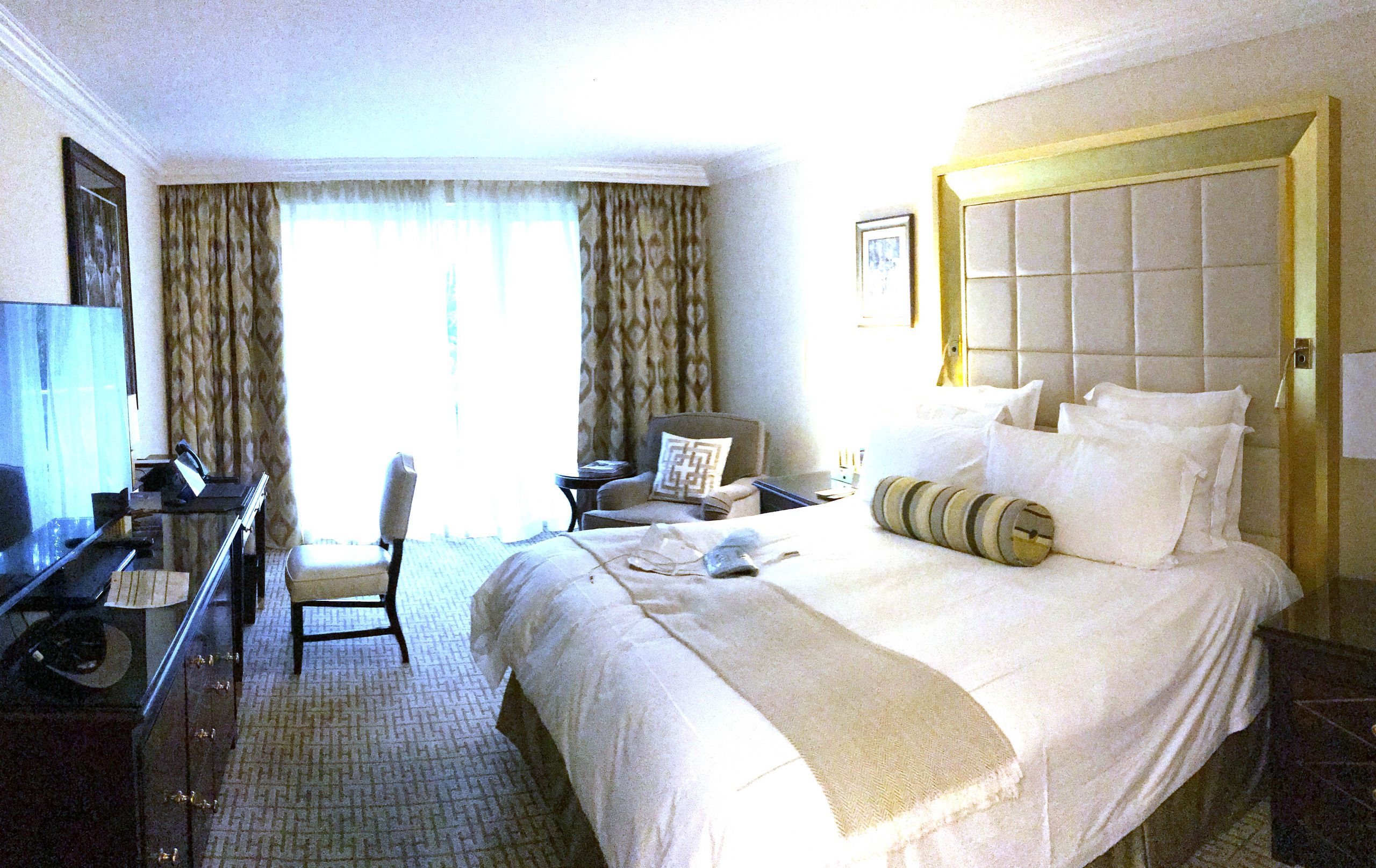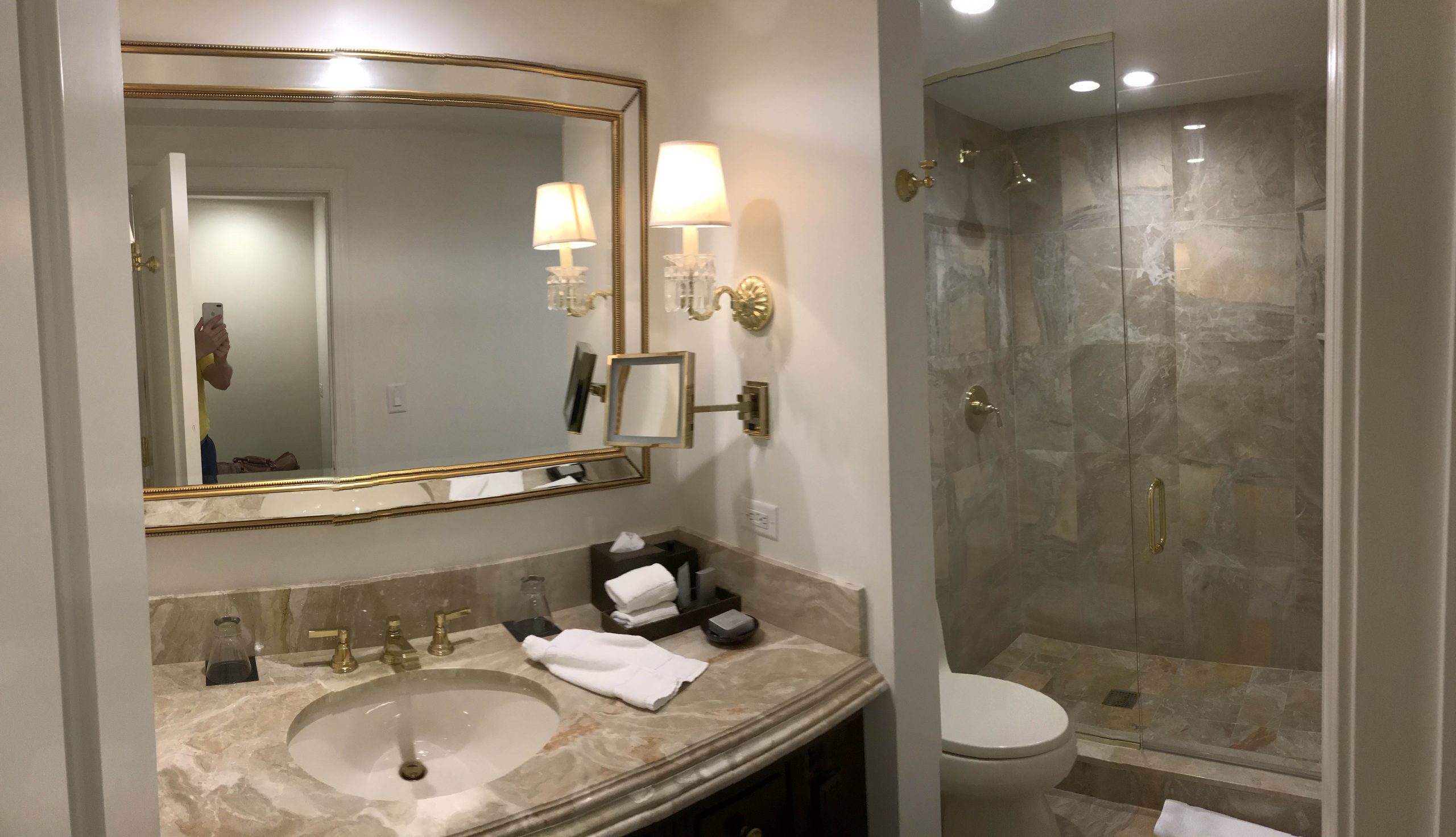 The rooms and lobby of Trump Doral are quite nice. They are Four-Seasons-caliber. Trump knows how to build, but his moron kids seem to be unable to do the hard part and manage staff.
One sees this in Trump's own presidential administration. His decision to hire Rudy Giuliani directly led to Trump's impeachment. In Trump's first year, his inner-circle of Steven Bannon, et al led to disaster after disaster.
Of note, this essay was written by a huge Trump fan and populist. However, I call them as I see them. Trump's sons are not running a tight ship with their hotels. It could be why they are exiting the business in DC.
The manager on duty called me and offered to send me some food from the same bad kitchen. A rule of thumb is to never send food back or complain and then expect to receive safe food. She then offered to refund the $11 breakfast and $24 parking. Whooppee.
Trump Doral is also located in a bad part of Florida, which is why they stopped playing PGA tournaments here. The Miami International jets fly at 1,000-feet overhead, nonstop. The surrounding properties are mostly low-quality condo complexes, strip malls, etc. I predict that the Doral property will be sold and turned into condos soon.
I highly recommend against staying in this, or any other Trump golf resort. Shame on you once. Shame on me the second time.