This post has been read 582 times!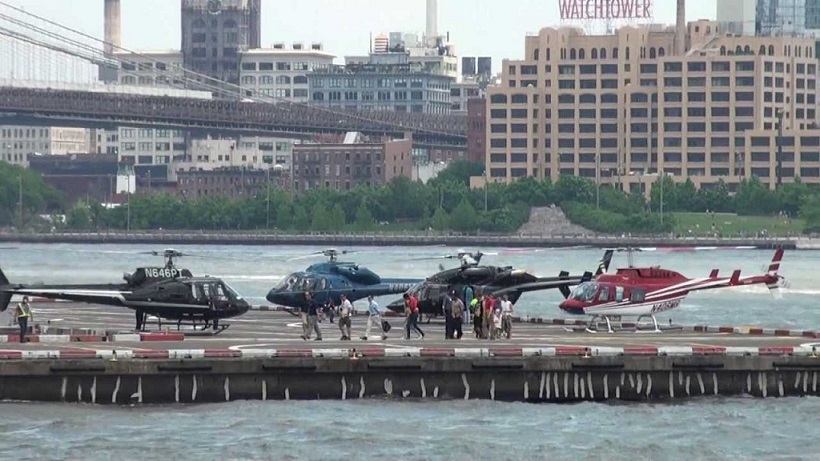 March 13, 2018- by StopTheChop's John Dellaportas
Stop the Chop NYNJ wishes to thank U.S. Sen. Chuck Schumer for his leadership today in demanding that the FAA halt all flights by Liberty Helicopters, the owner of the helicopter that went down last night in the East River, killing all five passengers onboard.
Last night's tragedy was eminently preventable. Although Liberty Helicopters flies exclusively over water, it had no viable evacuation plan for passengers in a water landing — beyond having passengers cut themselves out, while upside down, underwater, in pitch blackness, following a crash.  This was obviously impossible, and as a result, five young adults last night died horrible death.  Inexcusable.
Yet today, the heli-tours continued unabated.  Other than the commendable Sen. Schumer, where are our elected officials?  Stop the Chop calls on Sen Gillibrand, Cong. Nadler, Governor Cuomo, and all of our elected officials (except for the irredeemable Mayor de Blasio, who is responsible for this calamity) to demand an immediate halt to ALL heli-tours until EVERY operator comes up with a proper safety plan, so this never happens again.
Remember, these helicopter crashes are NOT rare events.  Liberty Helicopters ALONE has had four recent crashes in area waters (see below).  If our elected officials don't act now, then that means they are OK with people dying.  We are not.
Liberty Tours' Local Crashes:
* March 11, 2017:  Sightseeing Liberty Tours flight crashes into East River; all five passengers drown.
* July 1, 2013: Sightseeing chopper plunges into Hudson River twenty second after power cuts out; all passengers rescued by nearby boats.
* Aug. 8, 2009: Liberty Helicopters sightseeing chopper flying too high collides with a private plane over the Hudson River, killing nine people, including five Italian tourists and three children.
* July 7, 2007: Liberty Helicopters sightseeing chopper carrying eight drops 500 feet into the Hudson, but an off-duty EMT aboard helps everyone escape.
* New Year's Eve, 1997: Liberty Helicopters sightseeing chopper crashes into side of building near West 30th Street. Eight people on board are injured.
Stop the Chop NYNJ, Inc.
John Dellaportas, President
917-685-2084