This post has been read 136 times!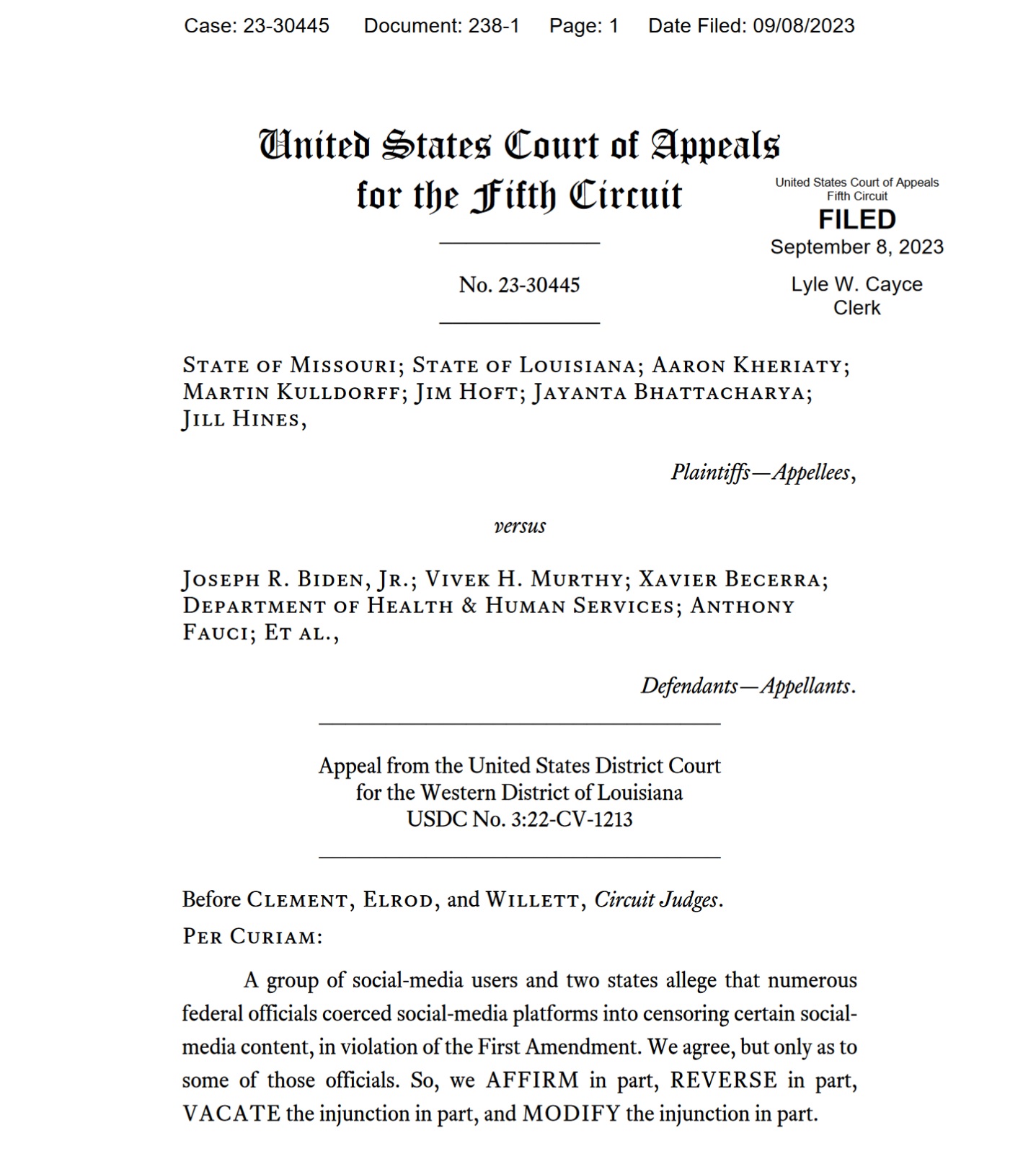 September 4th – September 10th                                          2023
The first big story of the week came from the federal court of appeals in the 5th Circuit. It is official now. The White House, FBI, and CDC violated the First Amendment rights of millions of Americans by controlling social media and censoring truthful comments about the harms of the COVID policies. By stifling this lifesaving speech, millions were harmed and killed. It is the first time that the White House has been found guilty of this. Immunity laws have prevented many previous lawsuits from proceeding. This should be an impeachable offense for the FBI and CDC Directors, as well a Joe Biden.
The next big story of the week was another blow to the Fourth Reich. The agenda of the week, right after Labor day, was to revive pandemic emergency powers by fearmongering COVID cases again. But this time, no one was having it. Joe Biden refused to wear a mask, defying his own order. JD Vance and Marjorie Taylor Greene started bills to ban mask mandates. Governors of Florida, Arkansas, South Dakota, and South Carolina, and Texas all promised to resist and federal mandates. The Florida Surgeon General even warned people to not take the vaccines. Then, seeing their folly, the CDC did a 180 and stated that existing antibodies, or natural immunity, means people do not need the new version of the Pfizer "vaccine" gene therapies.
In other American coup news, the intentional arson attack on Maui is obvious now. Residents are being arrested a month later if they try to return to their homes. Hundreds or thousands of bodies are unidentified. Joe Biden was criticized for claiming to be too busy to visit the other terrorist attack site at East Palestine, Ohio, and the EPA will not lift a finger to clean up the mess. The Soros-appointed governor of New Mexico was pressured to use medical emergency laws to strip people of their Second Amendment rights to have guns. Even the propaganda media pushed back. Calls for impeachment grew. The border crisis is clearly an intentional invasion as the federal government sued Texas, and won an injunction, to remove makeshift border barriers. The J6 atrocities continue. A mother and son were given five-years in prison, and a man was surrounded by FBI and military vehicles as he was arrested. Lastly, the FBI Director admitted that they have been collecting bank information without warrants.
In European Fourth Reich news, Klaus Schwab held court in Asia, acting like the leader of the world, urging global governments to submit. WEF stooge Macron was booed by an entire soccer stadium. The UK is stealing farm land now, like the Netherlands, and also moved a new law forward that would allow government force to install home "smart meters" that can be controlled by Big Brother to shut off power to people disobedient to The Party. It is all part of the expedited "Agenda2030" of the WEF.
In crime and Trantifa news, California is making it illegal to stop looters. In Georgia, 61 Antifa were indicted for RICO. A New York city black man was caught on video beating a black woman for minutes inside a subway, and Mexican parents burned school textbooks that promoted communism.
In regular politics, Trump was mobbed with loving fans at an Iowa football game and elsewhere. Bill Maher and Eric Clapton endorsed Bobby Kennedy as Mr. Kennedy openly stated that the DNC is "rigging" the primaries. He hinted at running as an independent candidate, which would greatly hinder the Democrat candidate the DNC grooms. Gavin Newsom got the memo to back out of the race, with rumors of Michelle Obama being the chosen one. Tucker Carlson blew open the worst kept secret in Washington. He interviewed a man who had sex with Barack Obama, and many talked about Michelle Obama being transgender (i.e., with a penis).
In money and the economy, the jobs reports are bogus. Every month this year has since been revised downward. Apple stock one of the seven big names holding up the entire index, fell in value by $200 Billion after China said it would target the iPhone in a trade war. The stock market is a house of cards driven by these seven wildly overvalued names. It will all collapse with an unforeseen event to Nvidia, Apple, etc. U.S. bankruptcy courts were busy.
On the data front, White House propagandist Karine Jean-Pierre said of the new Pfizer "vaccines", "We know that they work". They are expected to be approved next week despite have zero human trial data and only mouse data. Also, unethical scientists grew a human embryo without using an egg.
In other news, rain made the desert festival Burning Man a giant shithole, literally. The NFL season kicked off with the Black National Anthem. Coco Gauff became the youngest player to win the U.S. Open of tennis, and Novak Djokovic won the men's trophy.