This post has been read 770 times!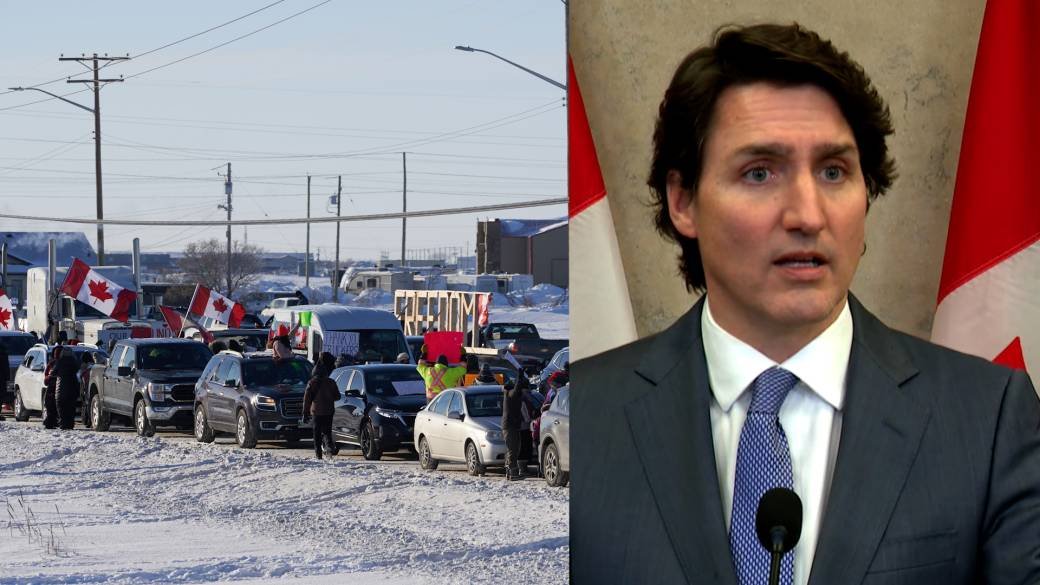 January 24th – January 30th                  2022
In the general news, as Joe Biden's approval ratings sink to new lows each week, his handlers are preparing for a needless war with Russia to distract away from his problems. However, Germany, NATO, and even Ukraine do not want the US to intervene. In other politics, the 2020 election fraud matter was in the news as the Wisconsin State Assembly voted to recall their electoral college votes, a Pennsylvania court ruled that it was unconstitutional to allow mail-in ballots, and massive fraud in Georgia was exposed. Supreme Court Justice Breyer was forced into "retiring" by the left and Biden announced that he would flagrantly violate the law by choosing the replacement based on race and sex (i.e., a black female). More importantly, Tom Brady is also rumored to be retiring, and the Bengals will face the Rams in the Super Bowl.
In Great Reset fascism news, Canada's Klaus Schwab stooges seem to have fallen. Thousands of truckers surrounded the capital in Ottawa and Trudeau went into hiding. In New Zealand, Jacinda Ardern also went into hiding as Denmark, Switzerland, and the UK lifted all vaccine and mask mandates. Even San Francisco is moving to lift vaccine mandates. In Virginia, despite the governor lifting school mask mandates, teachers union ignored the orders.
Meanwhile, the traditional liberals in Hollywood are moving to the right. Sean Penn and Bill  Maher pushed back against the far-left. However, Canadian communist Neil Young started an effort to censor Joe Rogan's podcast by having Spotify remove it but they removed him instead.
In crimes against humanity news, the complaint filed at the International Criminal Court in The Hague advanced to the stage where judges were assigned. The luck is running out for Tony Fauci as the propagandists on Australia were told to blame him for the pandemic. Ivermectin is gaining support as Kansas introduced a bill to require pharmacists to fill prescriptions and New Hampshire will allow it to be sold over the counter without a prescription. Monoclonal antibodies were working too well to destroy the vaccine-only narrative so Biden had his HHS revoke the FDA approval. Governor DeSantis shot back. Vaccines are starting to cause increases in death rates, miscarriages, cancers, and neurological diseases as they are damaging  the immune response. Also, patients at Harvard hospitals are being denied heart transplants if they are not vaccinated
In vaccine mandate news, OSHA withdrew plans to enforce mandates over private employers after the Supreme Court ruling. Baseball will not  require vaccinations. The new Virginia AG issued a report explaining the illegality of vaccine mandates by colleges. Japan continues to refuse to issue mandates, and Sweden will not  allow them in children. A large anti‑mandate rally was held in DC. And related to mandates, a New York judge ruled that mask mandates on children is unconstitutional.
On the data front, Omicron is receding. Ivermectin worked in a large trial. Liberal NY Times admitted that unvaccinated have better immunity. Austria, with 2.5 years of lockdowns, has high infection rates, and long-COVID in children is not a real thing.
In healthcare business news, Pfizer (PFE) admitted their vaccines do not work but still  thinks people should get a fourth booster shot. Pfizer is now widely suspected of committing fraud during the trial and FDA stages. Therefore, they are obstructing efforts to obtain the documents. Fauci is doubling down and wants newborns to be vaccinated. Europe approved Pfizer's Paxlovid pill. Moderna (MRNA) began human "trials" of a new vaccine aimed at the Omicron version, as did Pfizer. Moderna and started trials on an HIV vaccine too, and Pfizer was rejected by the FDA for Somatrogon.