This post has been read 425 times!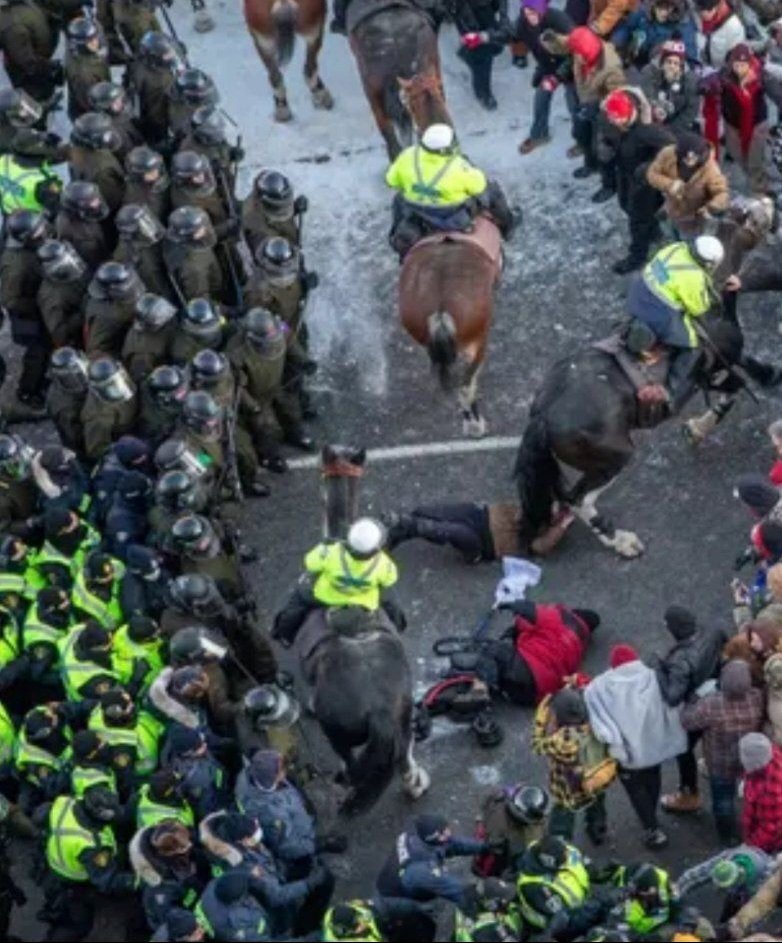 February 14th – February 20th                 2022
In the general news, the unfathomable happened: Canada literally, not metaphorically, became a dictatorship. PM Trudeau used peaceful trucker protestors as the pretext for never-before-used martial law that suspended parliament and all normal laws. On Friday, he unleashed men dressed in police uniforms (possibly military and not police) to beat up and arrest unarmed protestors (here, here, here, here, and here). His head of finance, Chrystia Freeland, another Great Reset stooge, began freezing bank accounts, etc. The U.S. DOJ began plans to do the same thing under the pretext of "domestic terrorism". Meanwhile the Biden State Department said nothing and their propaganda outlets committed a complete blackout of the news. Former politician Sarah Palin had a federal judge egregiously commit jury tampering in order to have her winning defamation case against the NYT tossed. Lastly, in the economy, new housing starts dropped and mortgage rates went up.
In vaccine and mask mandate fascism, the Great Reset Gang got the message that they overreached and have ordered their useful idiots in charge to sweep the Wuhan virus under the rug. Australia and Austria, the two most totalitarian states, began lifting mandates, as did Switzerland. Globalist corporations Walmart, JPMorgan, Amazon, Wells Fargo, and Carnival Cruise also lifted mask and/or vaccine mandates. A federal judge ruled that United Airlines' vaccine mandate was coercion, and Virginia passed a law banning masks in schools. However, the dimwits controlling Biden stood fast. The CDC refused to lift mask recommend dations due to the influence of the teachers union. Washington, D.C. Mayor Muriel Bowser maintained the school masks. New York's useful idiot Governor Hochul backed them up by firing 1,400 state employees. Then, the Super Bowl exposed all of the Hollywood celebrity and ruling class elites flaunting their maskless faces.
In crimes against humanity, CDC data show at least 23,000 deaths caused by the vaccines. Scotland simply stopped reporting deaths by vaccine status. The WSJ reported on "rare" cases of death. Despite the irrefutable evidence of vaccine risks and total lack of efficacy, the UK approved Pfizer's (PFE) vaccine for ages 5 and up (after the US recently halted that approval process), Tony Fauci urged for never-ending vaccinations, the FDA is planning to approve a fourth booster shot, and undercover video exposed an FDA official explain their evil plan to make the gene-therapy "vaccines" a yearly therapeutic drug. Meanwhile, mass collection of Americans' DNA, long a dream of Google, became a reality during the PCR nasal swab period of testing. The CDC announced that those PCR tests were sent for genomic sequencing. The CDC just lowered early childhood speech standards for children to cover up the effects of masks. A Texas children's hospital became the latest to refuse a patient for organ transplant surgery due to vaccination status, and a New York judge refused to allow ivermectin to be administered to a dying patient.
On the data front, COVID cases continued to fall. A whistleblower lawsuit accusing Pfizer of clinical trial data fraud moved forward. And lastly, a new method of eradicating HIV by using stem cell therapy cured a woman, but was also risky.
In healthcare business news, Big Pharma lobbyists and former Commissioner of the FDA under the Obama administration, Robert Califf, was confirmed by the senate to become the new FDA Commissioner for the O'Biden administration. A few senators objected.