This post has been read 1188 times!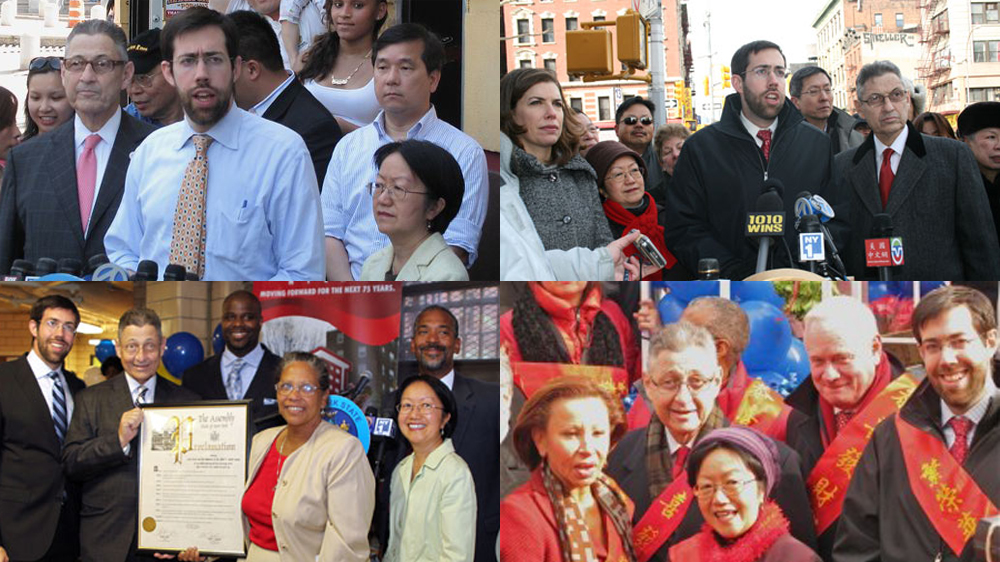 April 28, 2016- State Senator Dan Squadron represents our district, and has been carried along throughout his career by convicted felon Sheldon Silver (see photo). Now, it seems that the eye of Sauron (i.e. Preet Bharara's office) is focusing on how Mayor de Blasio might have illegally raised money for state senators, like Squadron.
The NYT reports, "The precise nature of the information sought in the subpoenas was not immediately clear, but the origin of the subpoenas and their targets suggested that the authorities were delving deeper into aspects of Mr. de Blasio's fund-raising on behalf of State Senate Democrats in 2014. Both Ms. Wolfe and Mr. Offinger were directly involved in discussions with potential donors, including at a meeting in September 2014 at which the mayor also spoke.
Mr. de Blasio made electing fellow Democrats to the State Senate a priority in late 2014 and actively worked to direct contributions to state and county party committees. Those committees then financed several candidates in difficult races. Mr. de Blasio's lawyers have said the entire process was routine and legal.
But the transactions came under criminal scrutiny after complaints from Republicans to the State Board of Elections prompted an investigation by the board's enforcement counsel, Risa S. Sugarman. Her report, recommending a criminal inquiry by prosecutors, was leaked late last week, prompting strong criticism from Mr. de Blasio and his lawyers, who suggested there had been political motivations behind the investigation and the leak.
The subpoenas suggest, however, that prosecutors are looking seriously at whether the fund-raising activities went over the line. In the case of the 2014 election, they are looking to see whether donations to candidates were funneled through county party committees to evade contribution limits, a violation of state law and a possible felony."