This post has been read 1363 times!
February 15, 2012
A local throw-away is claiming that the majority of residents love the fruit shack vendor on South End Avenue and Albany Street. Their article provides no supporting data whatsoever. Their assertion conflicts with BP.TV's survey and anecdotal incoming email. According to our survey, 70% of the residents of BPC want the fruit shack evicted completely. In the comments section at the bottom of this story, numerous people have written strongly worded letters opposing this vendor.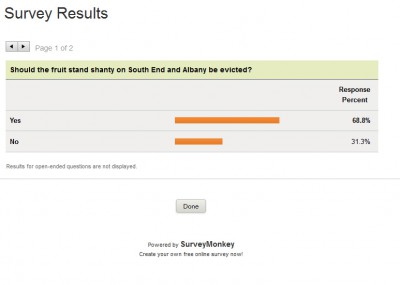 This is not the first time that the Broadsheet has posted an article with an agenda of contradicting an original BatteryPark.TV story. The Broadsheet also supports Gayle Horwitz and the BPCA, seems to support an artificial turf being placed on the West Thames field, etc.
However, commentary by residents at meetings and surveys indicate that the people often oppose the views of the Broadsheet. In general, the interests of the advertising-driven business model of the Broadsheet seem to create conflicts with the interests of the residents of Battery Park City. This is just one reason that BP.TV has been so well received since we launched in 2009. One person posting a comment wrote, "I find out more, and get more results, from BP.TV than anywhere else. You are looking out for the community."