This post has been read 2190 times!
Update November 3, 2020 11:00 PM- Trump now has at least 280 votes in the electoral college, so he has won. I told you so. I have been right for two elections in a row.
Update November 3, 2020 12:00 PM- Below is my accurate prediction from 2016 that Trump would win. I made it after I visited my polling location to cast my vote. Well, many people have asked me about my predictions for this election. I just voted, and this is my prediction.
Trump will win in a landslide, the likes of which have not been seen since Nixon won in 1972. The conditions are the same. Back then, the Vietnam protestors had become hijacked by Marxists who were bombing government buildings, etc. just like the BLM scum of today. However, the lockdowns are going to make voter turnout for Trump even greater than Nixon saw in 1972.
The wildcard this time is the election fraud in the form of mail-in ballots. I think the true number of people voting will be near 150 million. I don't think the Democrats can create more than 50,000 fake ballots. So, this should be well offset by the real votes. Also, even if certain states are swayed by the fake ballots and go blue, Trump will still get more than 270 electoral votes.
I also predict that several blue states will go red. Minnesota and California will go red, I think. No one is predicting this at the moment.
_______________________________________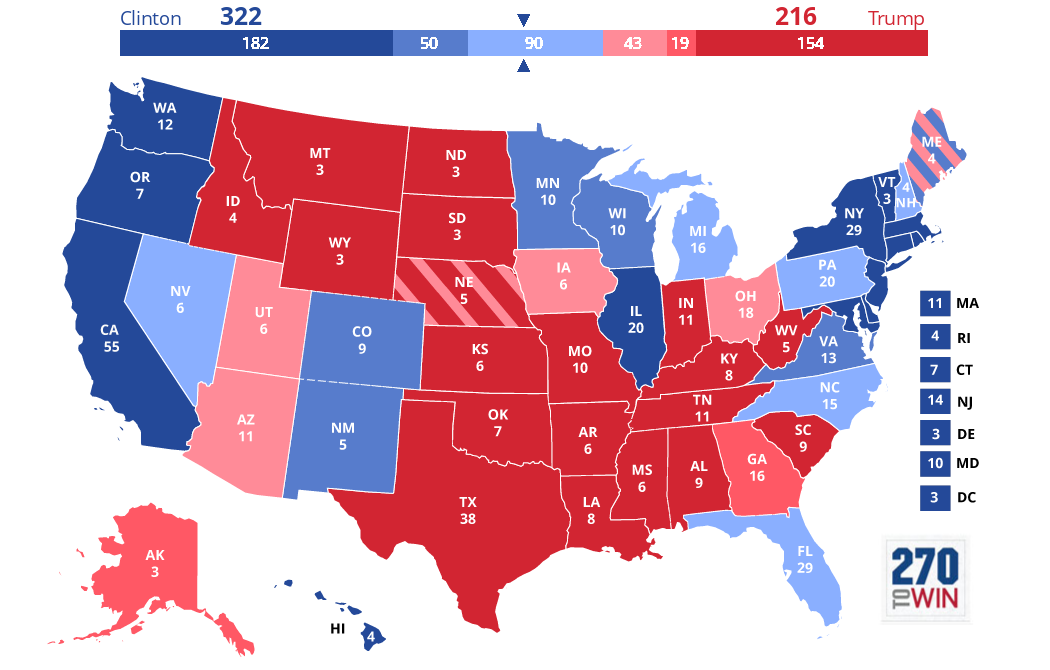 Update November 8, 2016 11:00 PM- By my conservative estimates, Trump already has 289 electoral votes. Folks. He has won. Donald Trump is our 45th President of the United States.
November 8, 2016 12:36 PM- by Steven E. Greer
I have witnessed the pro-Trump movement firsthand, in Ohio and California (Yes, even in liberal California they like Trump). The arbitrary borderlines drawn between states do not control the mood of the demographic. Michigan, for example, has pretty much the same demographic as Ohio, and Ohio will go for Trump by a large percentage. Therefore, I think that "blue" states, such as Michigan, Pennsylvania, Iowa, and North Carolina will go for Trump.
Since Trump will certainly win Florida, Ohio, Utah, Arizona, and Georgia, he will go over the 270 threshold and win the presidency with a Michigan win, for example.