This post has been read 639 times!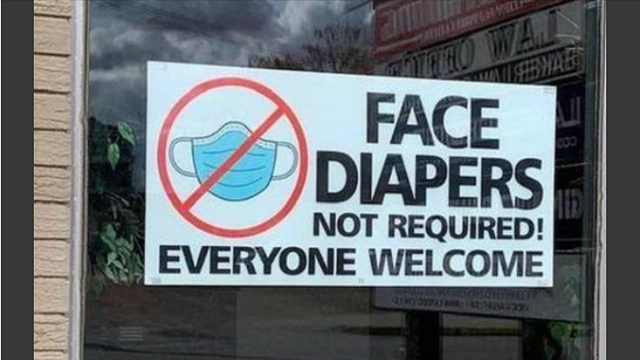 Fascism watch:
@MTGREENEE "REOPEN OUR SCHOOLS!

@GOPLeader "Democrats have a plan to open America's borders but not America's schools. Tells you everything you need to know."

@EmeraldRobinson "Bill Gates in 2018: Let's block out the sun! Bill Gates in 2019: Let's donate to MIT using my pal Jeffrey Epstein as a cut-out! Bill Gates in 2020: Let's mandate vaccine passports if you want to travel anywhere! Bill Gates in 2021: Let's all eat synthetic beef!"

Montana moves to designate Antifa as terrorist group
Florida restaurant goes viral with "face diapers not required"
Steps to impeach Mussolini Cuomo
The Guardian: CuomoGate

@SenTomCotton "This fence (around the Capitol) was put up within 24 hours and it can be put up again. I am aware of no specific and credible threat that would warrant keeping the fence up through the fall, and I'll be seeking answers when we're back in session next week."
_________________________
Other news:
@EmeraldRobinson "The Bill & Melinda Gates Foundation is behind the "Math is Racist!" movement. In case you're wondering who supports such madness."
Mars Lander lands today
Mars rover landed successfully

Mark Zuckerberg: "I do just want to make sure that I share some caution on this because we just don't know the long-term side effects of basically modifying people's DNA & RNA to directly code in a person's DNA & RNA." –from a leaked video

Report: Military members resisting getting COVID vaccination
'No Jab, No Job' – UK Firms Set to Make Vaccines Mandatory
Public School Teachers Continue To Insist Their Jobs Are Non-Essential

Another Big Conflict Of Interest Emerges For Citadel Just Minutes Before The Congressional Hearing

Why the U.K. is about to deliberately infect some young people with the coronavirus
Scamdemic propaganda : CNN: Covid-19 variants could fuel another surge. Fauci says we have two powerful tools against them
Jobless Claims Jump to 861,000, Much Worse Than Expected
The Wuhan Institute of Virology, the controversial laboratory in China that many have pointed to as the origin of the Chinese coronavirus, has been authorized to receive American taxpayer funding for the next three years, according to the Daily Caller.
Game Stopped For Griffin? Maxine Blasts "Financial Threat" Citadel For "Fleecing" Retail Investors
_________________________________
It's funny. I am starting to despise Trump as much as the communists hate the Orange Man, but for different reasons. I resent his arrogance and stupidity that destroyed this nation.
On Kelly, he supported Cuomo when the nursing home massacre came up. Trump said, "I get along with him", and did not throw any punches. First of all, Cuomo trashes Trump every day. What the hell is Trump thinking? Cuomo is not his buddy.
That was a classic example of his stupidity and unwillingness to do the right thing. Trump is trying to suck up to Cuomo because he has business in New York, I presume? So, he would rather ignore the nursing home massacre? I don't know. His actions cannot be explained.
By the way, Trump's own DOJ did very little to investigate the nursing home deaths. Trump, if he had any ability to fight, would have eliminated Cuomo and replaced him with a Republican, easily, due to unhappiness with lockdowns. He could have done the same with NJ, CT, and MI governors and looked like the savior  by arresting tyrants and lifting lockdowns. Instead, Jared Kushner and Trump's other bad advisors told him to let Cuomo, Whitmer, Newsom, et al keeping doing bad things because they would hurt themselves with their own actions? I guess? I cannot explain it.
The nursing home massacres and lockdowns would have been so easy to make political hay over and Trump whiffed.
I dislike Trump's moron children too.
I hope Trump can use his revenge in 2022 to primary people, then go away.