This post has been read 2830 times!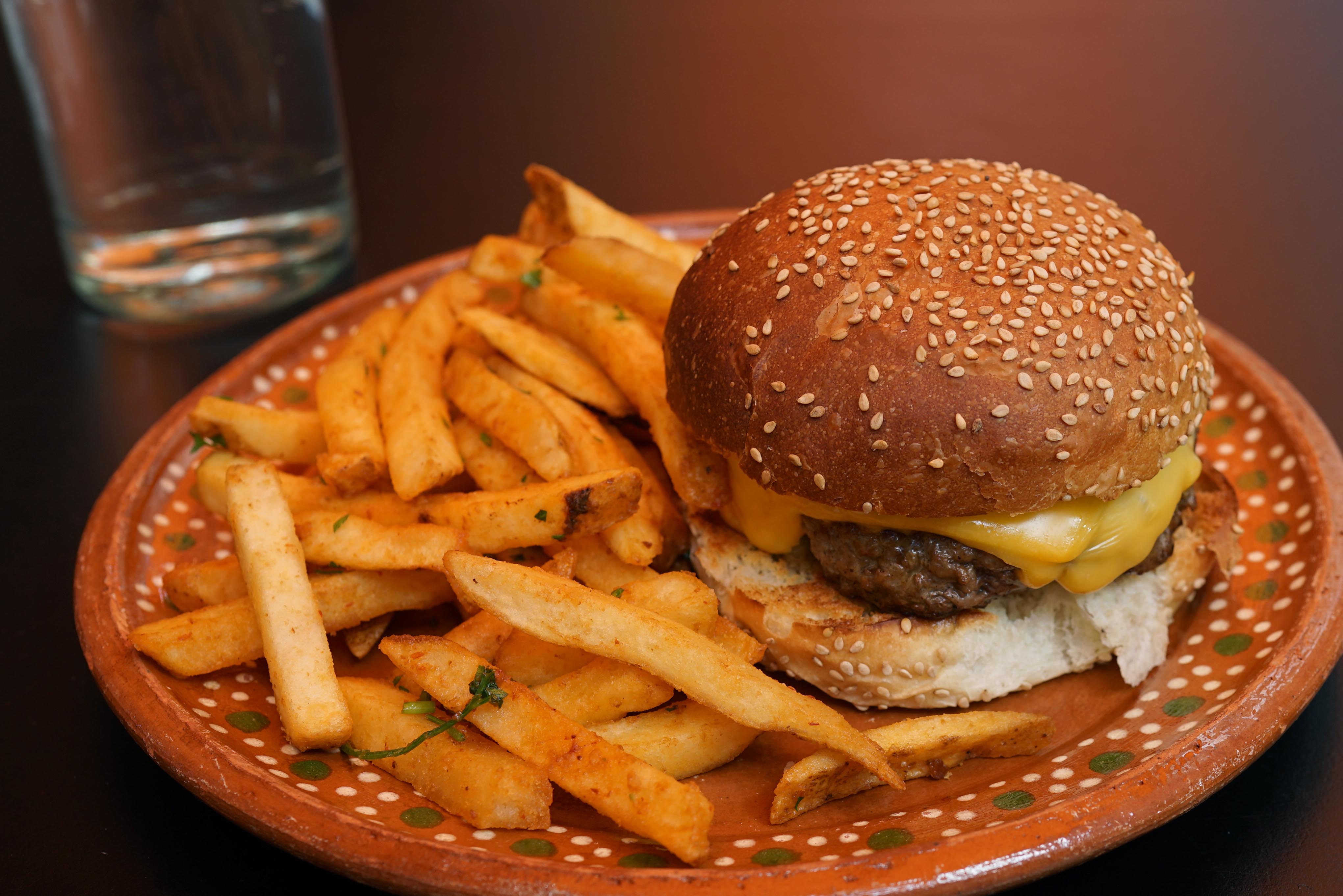 June 20, 2015- by Steven E. Greer
Given the fact that three of the best cheeseburgers I have tried over the last 12-months have all had a couple of things in common, Chef James Tracey and the Starr restaurant group, I am going to explain my experiences as a review of "James Tracy cheeseburgers". I know that the head chefs for each restaurant will not appreciate that, but this is the best way.
Chef Tracey is the Executive Chef for all of the Starr restaurants. He serves to add a bit of continuity to the different establishments, and helps to inject some of the wishes of the owner into the entrees.
Sure, at El Vez, Chef LaForce is credited for adding a nice slight toasting to their cheeseburger bun and a clever Mexican chili topping. At Clocktower, Chef Atherton added some crisp British toppings, and at Upland, Chef Smiley planted a California flag in cheeseburger, literally. Nevertheless the more important parameters of a cheeseburger are due to Chef Tracey, in my opinion.
The thickness of the beef patty, type of beef used, and type of bun selected are what matter the most for a cheeseburger. The rest is all show. When most of New York is serving what resembles more of a meatball or meatloaf, the Tracey burgers are just the right modest thickness. When the other pretentious chefs are using "brioche" buns or pretzel buns, Tracey and Starr use the classic sesame seed bun. When chefs, such as Floyd Cardoz or Eric Korsh, use "short rib" beef, the Tracey burgers use good ole sirloin.
I tried the Upland cheeseburger today. It smartly divides the beef into a double-decker stack of patties. This avoids the too-thick problem. It uses what seems to be American cheese, avoiding the stomach-upsetting sharper cheeses one might get at DBGB or Untitled.
I had a couple of dislikes. The fries are too thin. Also, at $20, compared to $14 for El Vez, the burger is a bit pricey.
The double-decker patty cheeseburger at Upland

Upland strawberries and cream
The Clocktower cheeseburger arrives on a nice bun, sans the sesame seeds, with crisp English toppings, such as cucumber and bacon. The pub-style fries were fluffy on the inside.
The Clocktower cheeseburger
However, my favorite cheeseburger of the three Tracey burgers, believe it or not, is the El Vez Mexican burger. The fries are perfect, being crispy on the outer layer and still having greaseless potato inside. The toasted bun is a good twist, adding texture, and the chili topping is not overpowering.
The El Vex Tex-Mex cheeseburger
I have previously written that my favorite cheeseburger in Manhattan is the Hillstone entry. I have not had that in a while. It is possible that I could change my mind.