This post has been read 1836 times!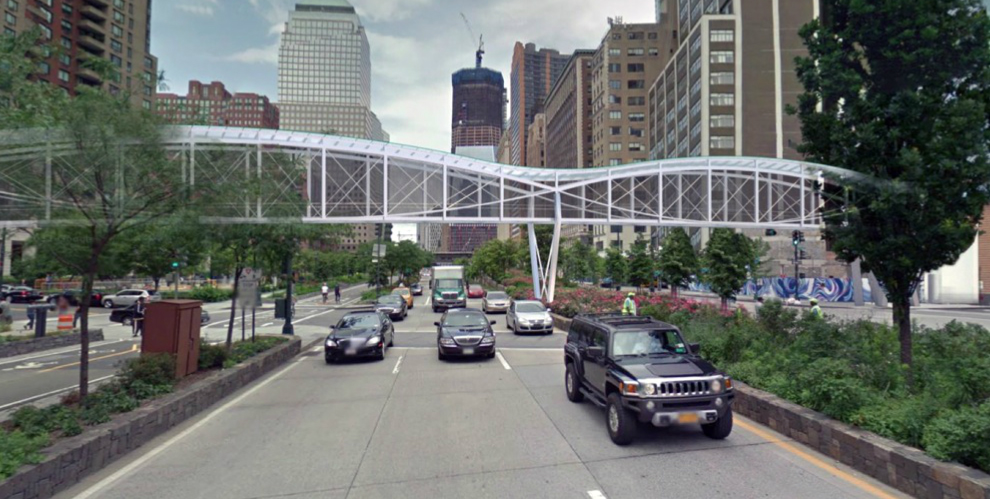 November 16, 2015- The LMDC approved the $17.2 Million, which is in addition to the $8 Million from the BPCA, to build the West Thames bridge. With Sheldon Silver on trial now, and likely going to prison soon, perhaps the LMDC figured that they had better release funds for his pet projects soon.
Considering the fact that the nearby Rector Street bridge cost only $3 Million, why this $30 Million waste of federal and local tax dollars should be a source of pride for Sheldon Silver is unknown (He sent an email bragging about this as an accomplishment).
Moreover, the bridge is utterly unnecessary. Crossing at the street level is easy, safe, and can be done by handicapped or those with baby strollers. In contrast, the new bridge will have another one of those elevators that never works, like the Chambers Street bridge.
The project is expected to take at least two years to complete, which again is excessive. A bridge like this is built off-site, then installed by cranes. It should take a month of on-site construction to complete. So, residents can expect years of "beep beep" construction vehicle noise, simply to allow a jobs creation pork project to proceed.
This project is nothing but a redistribution of tax dollars into the pockets of construction companies, which, in turn, pay into campaign PAC's.